 AnythingDisplay.com
Loading something great for you!
Outdoor LED Open Closed Display 7 x 18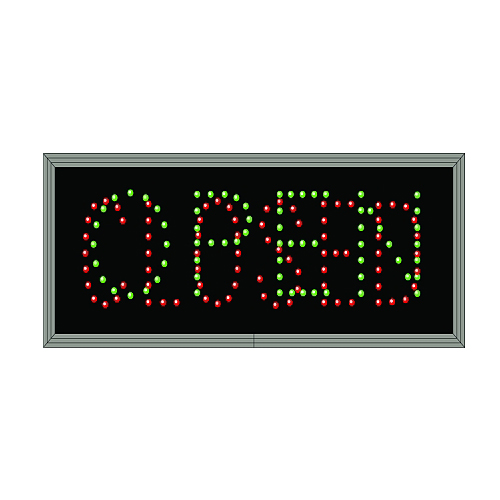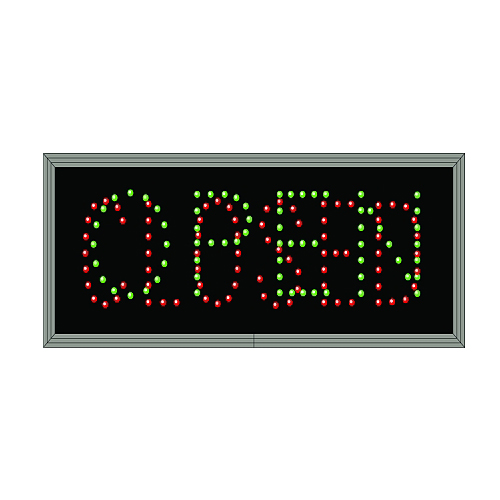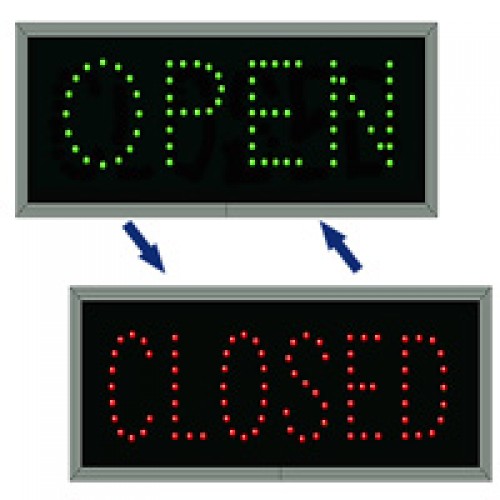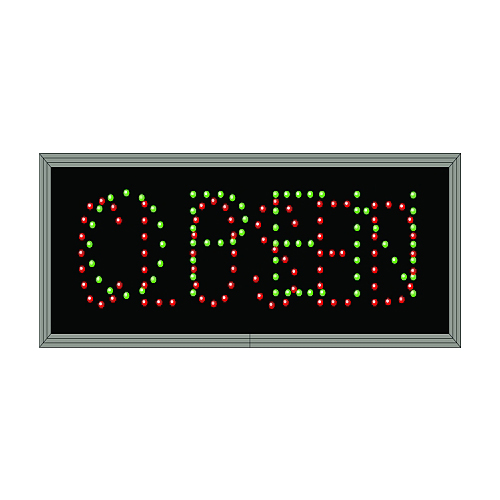 Product Code: LED_ST_5887_7x18
Availability:
---

2 or more $580.13
5 or more $565.25
10 or more $550.38
25 or more $535.50
Outdoor Open | Closed LED Display
This outdoor LED Open/Closed display was designed for the rugged environment of drive-thru lanes at banks. It is also suitable for outdoor ceiling mounts above walkways at strip malls and wall mounts on store fronts, restaurants, nightclubs, movie theaters and any place else that wants to get the message out. This sign Features a bright Green LED Open message to let your customers know you are "Open For Business" and bright Red LEDs to let them know when you are closed. The messages "blank out" when turned off to eliminate confusion.
This single-sided, Weatherproof LED display features an anodized aluminum housing in a corrosion resistant bronze finish and incorporates a long life, solid state, housing, an integrated solid state power supply, and 3.5" characters that can be viewed up to 175' away!
The unit can be operated by a hardwired switch (sold separately).
Features:
Single-Faced
3.5" Character Height
Dimensions: 7" x 18" x 2.5"
Super Bright, Wide Viewing Angle LEDs
Long Life, Solid State lighting
Slim line, continuous, corrosion resistant housing
Impact Resistant, Smoked, Tinted, Polycarbonate, 1/8" thick face material
Duradonic Bronze Cabinet
Mounting: Wall (standard), Ceiling or angle mounts optional
UL/CUL approved
5 Year Factory Warranty
Display installation, Electrical hookup, Display Mounting Hardware(unless specified above), Transportation, Permits, Site Surveys, and other ancillary services and fees are not included with this product. It is strongly recommended you check with your local code enforcement bureau before purchasing this product!
Downloads:
NOTE: To download files, click the links below or Right Mouse Click and choose "Save Target As..."

Printable Spec Sheet for LED Outdoor Open Sign

Printable Set up and Wiring for LED Outdoor Open Sign
Electrical Specifications:
Integrated Solid State Power Supply
Standard Voltage: 120 VAC, Max. Amps: 0.03
Features:
Single-Faced
3.5" Character Height
Dimensions: 7" x 18" x 2.5"
Super Bright, Wide Viewing Angle LEDs
Long Life, Solid State lighting
Slim line, continuous, corrosion resistant housing
Impact Resistant, Smoked, Tinted, Polycarbonate, 1/8" thick face material
Duradonic Bronze Cabinet
Mounting: Wall (standard), Ceiling or angle mounts optional
UL/CUL approved
5 Year Factory Warranty