 AnythingDisplay.com
Loading something great for you!
Embrace U Shaped Popup 14'w x 7.5'h with Silicone Edge Graphics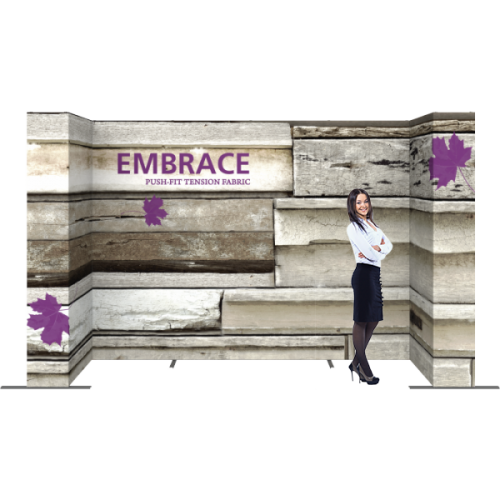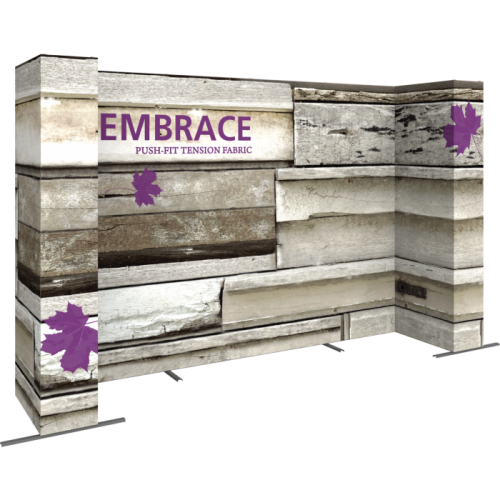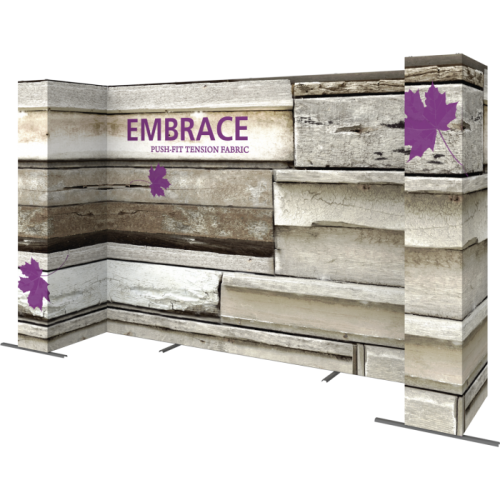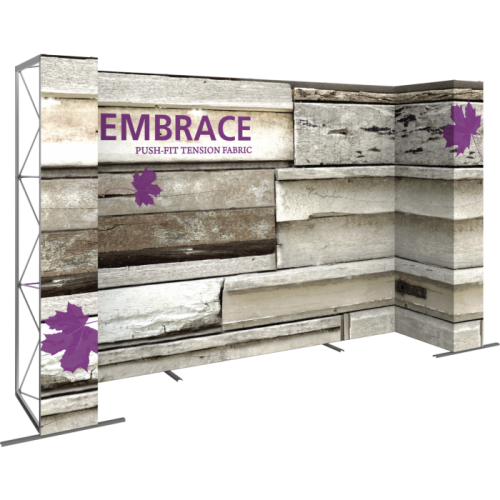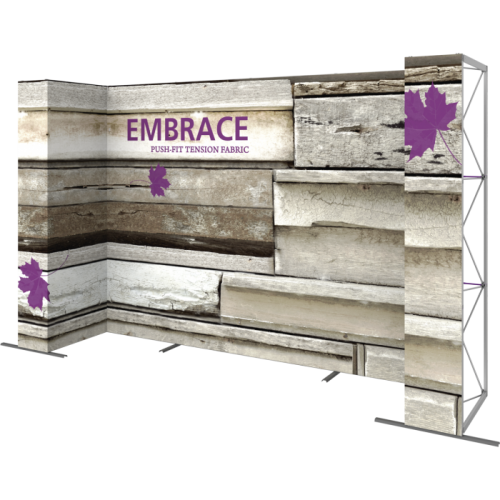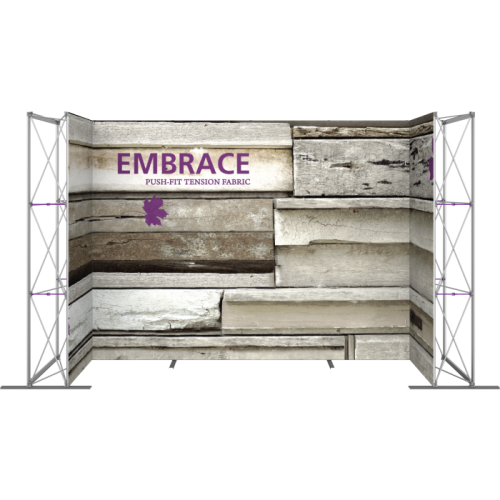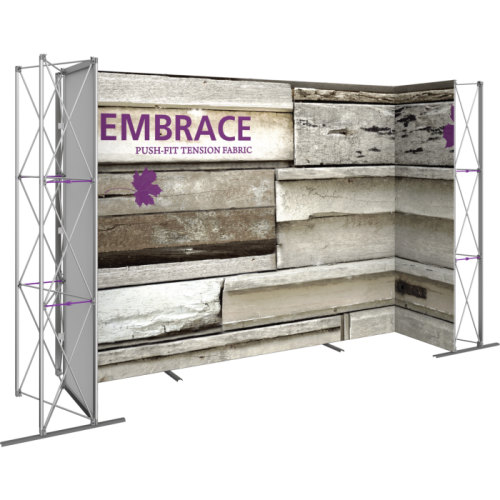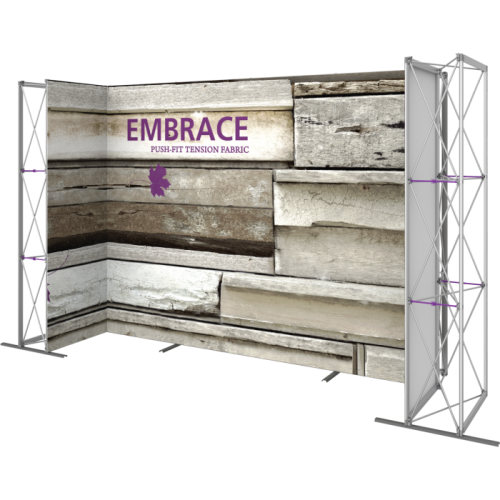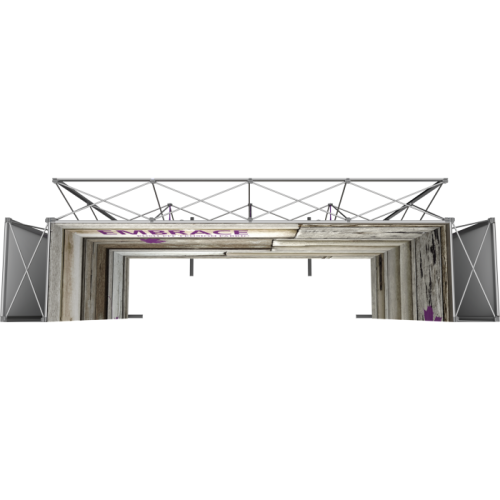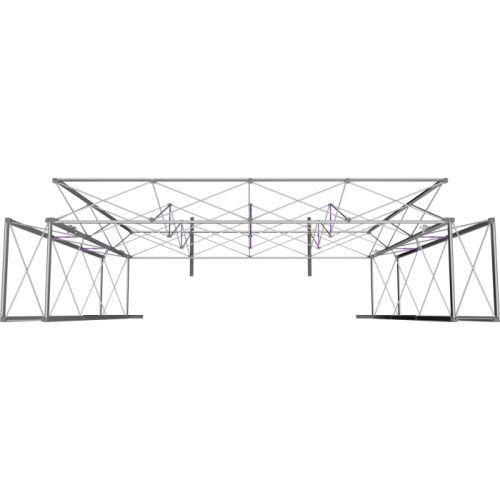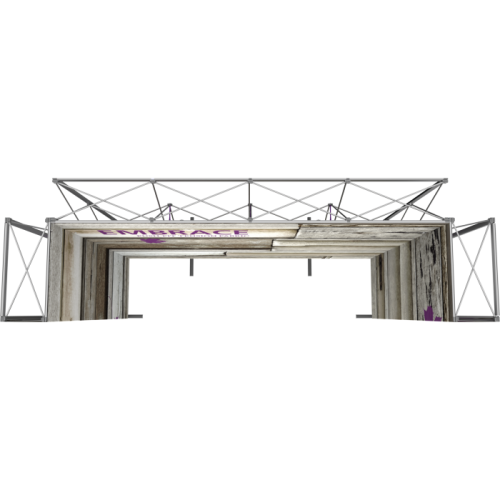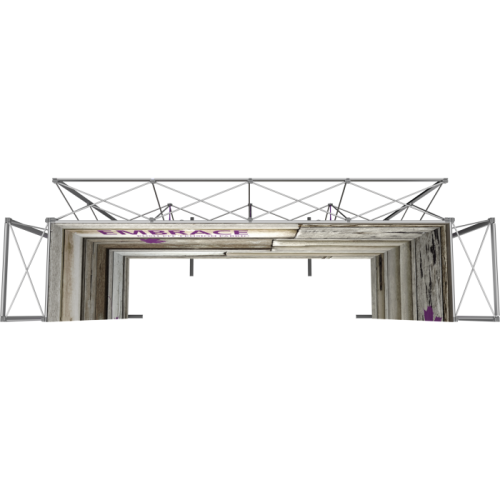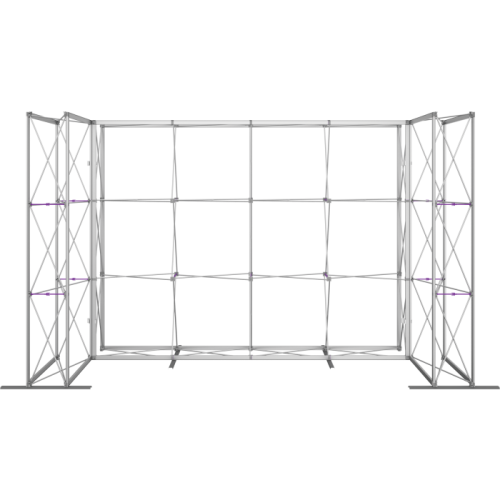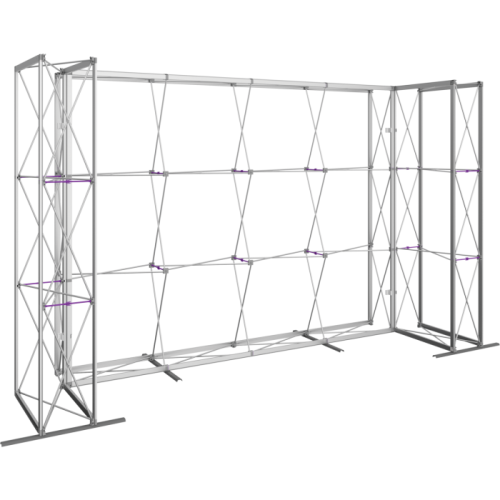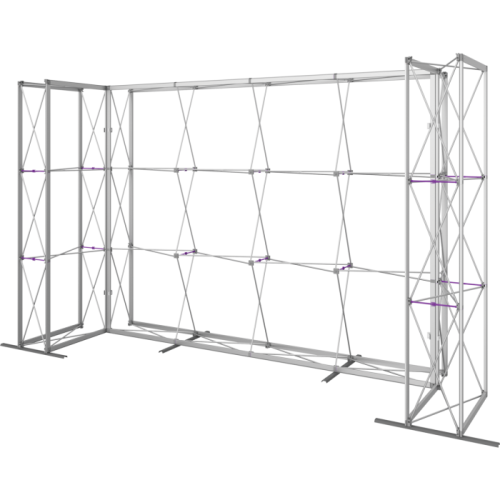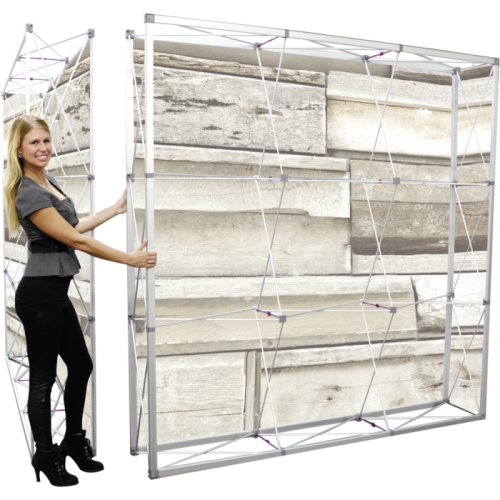 Product Code: emb-ob-U-14
Availability: In Stock, Printing 2 - 3 days
---

2 or more $1,815.45
5 or more $1,768.90
10 or more $1,722.35
25 or more $1,675.80
Embrace 14 ft wide x 7.5ft tall Includes SEG Tension Fabric Display
This big full color printed U shaped booth adds dimension to your booth making it perfect for trade shows and business expos. The Embrace™ U-Shaped display comes with SEG Push-fit fabric graphics. This display spans 14ft wide with three anodized silver collapsible frames - one 4x3 in the center and two 1x3 side frames on the ends. This U shaped backdrop display offers easy tool-less set-up. It comes with a wheeled rolling carry bag for easy transport and dust free storage.
The lightweight anodized silver frame system sets up quick and easy with minimal effort. This sturdy hardware comes with a lifetime warranty to back it's quality; a display that will last a long-time through many uses. This quality U-shaped booth with deep colored printed graphics will be sure to generate attention for you and your business at every event.

About the Popup Graphics: Printed graphics are available on any main popup frame surface. The fabric banners are custom printed with dye sublimation, this process infuses ink into the fabric for deep rich ink colors that POP. The SEG fabric graphic has a silicone edge beading that push fits into the frames recessed groove. This creates a taut smooth edge to edge graphic surface with no edge distortion.

How to Setup Your Pop-up. Setting up your popup is fairly simple, more in depth instructions will come with the kit. Lay the frame on the floor and stretch open to size, snap together the locking arms. Slide on the top and bottom channel bars, stand up the display frame and install the side channel bars. Press fit the graphics into the recessed groove in the frame, start in the middle then press in the remaining graphic moving out towards the corners. Repeat for the end-caps or other sides. Install the stability feet into the dovetail clips if feet are required. That's it, if setup is done correctly the graphic will fit snug and smooth and the popup booth should be straight and stable.

*** WARRANTY *** Manufactures Warranty on Hardware and Warranty on Graphics
Features and Benefits:
Lightweight portable display

Premium opaque push-fit fabric graphic with SEG beading offered single or double-sided, with or without end caps
Three rolling carry bags included for transportation and storage
Lifetime hardware warranty against manufacturer defects
Kit Includes: 1- 4x3 frame, 2 1x3 frames, channel bars, linking clamps and stabilizer feet
Graphic Design Services: Available upon request.

Click here for Artwork Guidelines
Specifications:
Assembled Dimensions: 159.6"W x 89.4"H x 51.2"D
Display Size: 20' Inline
Shipping Dimensions: Ships in:1 x BOX (38"L x 15"H x 9"D)2 x BOX (35"L x 15"H x 9"D)
Hardware Only Weight: 92 lbs
Approximate Shipping Weight: 92 lbs
Graphic Specifications:
Perimeter channel bars connect to frames and hold push-fit fabric graphics
Downloads: Embrace 14ft U-shape Push-fit Tension Fabric Display
NOTE: To download files, click the links below or Right Mouse Click and choose "Save Target As..."



Set-up Instructions for Embrace 14ft U-shape Push-fit Tension Fabric Display


Single Sided with Endcaps Embrace 14ft U-shape Push-fit Tension Fabric Display


Double Sided with Endcaps Embrace 14ft U-shape Push-fit Tension Fabric Display


Single Sided NO Endcaps Embrace 14ft U-shape Push-fit Tension Fabric Display


Double Sided No Endcaps Embrace 14ft U-shape Push-fit Tension Fabric Display