Outdoor Flag Banner Displays Spin
Outdoor Flag Banner Displays Spin and Wave in the Wind!
Event Flag Banner Poles Telescope Extra Tall to Put You a Head Above the Rest!
Custom Printed Single and Double Sided Indoor/Outdoor Banner Flags
All Flag Pole Banners can be used as Outdoor Flags or Indoor Event Flags! Flag Pole Banner Stands are Extra Tall with Attractive Flag Banner Shapes to Command Attention!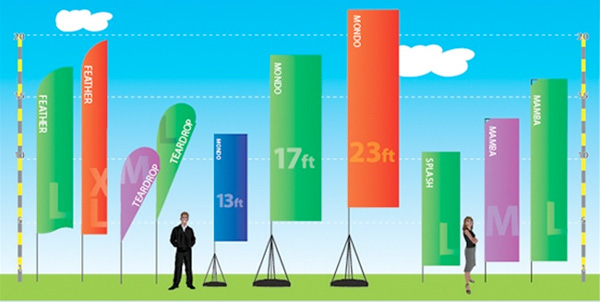 Outdoor Flag Banners and Event Flag Banners

Marketing flags and banners can be used indoors or outdoors. Flag poles are tall with attractive shapes to get you noticed. The printed flag banner graphic spins & waves in the breeze catching the eye. Simply snap the poles together, slide the flag banner over the flag pole and set into the base.
Flags Banners work great for indoor & outdoor marketing displays! Simply swap the flag base to go from an indoor flag to an outdoor flag!
---
Outdoor Storefront Flags: Bright colors and motion catch the eye! Flying flag banners in front of your store or business will get you noticed and bring customers inside. Multiple flag banners lined up create a compelling wall of waving color, this effect is a superior marketing display! The teardrop flag and the feather flag are best for higher wind areas since the smoother banner edges have less flapping in the wind. The spinning flag poles rotate therefore working with the wind direction for less wind resistance. We offer flag pole spikes for in ground flags and cross bases for use on hard surfaces such as sidewalks, be sure to add the water bag for extra support. Whichever mounting method you choose the flag pole with flag banner attached easily slides out of the base so you can bring them inside as needed.
---
Indoor Event Flags: Flag banners command attention! Colorful flags that match your company colors are the perfect addition to any marketing display at all your tradeshow events and conventions. The extra tall flag banner heights tower above the rest and can be seen from greater distances helping visitors to find you and your booth. The attractive flag banner shapes are stylish, professional and take up a small amount of booth space. All flag pole banners are portable, easy to set-up/pack-up and come with a handy travel bag. If you are going to multiple trade shows where height can be restricted the telescopic flag poles are the best option, this allows you to adjust the flag height as needed for each event. Between events flag banners are perfect for use in lobbies, show rooms, entry ways and even outside your business.
---
Flag Banner Printing: Flag Banners are custom printed to your design. Printed on an flag material with dye sublimation for vibrant colors that bleed through the fabric.
Why Choose a Single Sided Flag vs. Double Sided Flag? This depends on your flag design graphics ... Big BOLD Simple Text is most effective to grab attention!
---
Single Sided Flag Banners: The flag graphics on the front of a single sided flag banner reads correctly, the back side is reversed and will read backwards. The dye sub inks bleed through between 80% to 90% depending on the flag colors so the back side will be visible. The human eye will see and read simple words correctly such as "OPEN" "CLEARANCE" "RESTAURANT" and many more. Single sided flags are most effective when kept simple with large bold text to catch the eye. A single sided flag will last longer outdoors since the flag banner material allows the wind to flow through the flag more easily for less resistance in the wind. The flag banner pole edge is finished with webbing for added durability, the outer edges are hemmed.
---
Double Sided Flag Banners: Two flag banners are sewn back to back with a block out inner liner to keep the opposite side from showing through. Both sides of the flag graphics read correctly. Double sided flags are best for indoor events since customers will be viewing the flag up close and read time is longer. Double flags are also the best option for more detailed designs and anytime the graphic needs to read correctly on both sides. Both flag banner pole edges are finished with webbing for added durability, the outer edges are hemmed together with a liner.
---
Designing your Flag Banner: Our best advice for your flag design is to keep it as simple as possible especially for roadside outdoor flags. Big BOLD simple text is most effective to grab attention. We have found that light background colors with dark contrasting text and images works best. Flag graphic templates are available on the individual product web page. We have a full support graphic design team ready to help you get the best print for your marketing flag banner!! Call with questions or for a design estimate 239-433-9738