 AnythingDisplay.com
Loading something great for you!
Blimp Square Tower 12ft with Rotating Tube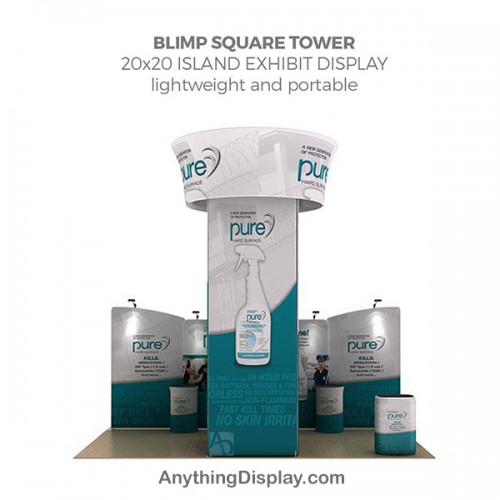 Product Code: BLIMP-KG-TWS1048-MAK
Availability: In Stock, Printing 3 - 5 days
---

2 or more $4,128.15
5 or more $4,022.30
10 or more $3,916.45
25 or more $3,810.60
Portable Stand Alone Display or Island Exhibits Square Tower
With a tapered Tube Blimp on top and small rotating motor built into the tube hardware this 12ft Blimp Square Tower is designed to attract attention from any point across the exhibition hall. The vibrant colors and easy setup make this eye-catching Tower display perfect for Trade Shows, Retail Stores, or Conventions.
The Blimp Square Tower Display provides 360° of vibrant branding visibility. Constructed from high quality lightweight aluminum materials, the Blimp Triangle Tower Tension Fabric Display frames are easily assembled with push button connectors. No tools are required. This unique system creates also a dynamic centerpiece for a 20x20 exhibit that can be customized to your event and brand.
Optional Monitor Mount and square Cut out with Zipper available.
*** WARRANTY *** Lifetime on Hardware, 1 Year on Graphics
Specifications:
Display Size Tower: 12ft high
Display Size Blimp Tube: 10ft wide 48in. high
Frames 1-1/4" (32mm) cold drawn anodized aluminum

Shipping Dimension 27.6" x 16.6' x 38.6"
Shipping costs calculated by dimensional weight
Total Combined Weight Packed: 46.2bs
Graphic Material: Dye-sublimation Stretch Fabric
Kit Includes:
(1) Blimp Square Tower incl. (4) Panels 4'x12′ w/connector clips
(1) 10'x48″ Blimp Tapered Tube with small rotating motor built in hardware.
(2) Medium Nylon Carry Bags
(1) Set of Fabric Graphic Prints - Single-sided with white interior
Graphic Design Services:
Available upon request. Please call for a quote (239) 433-9738

Submitting Artwork, Formats, Color & Resolution Requirements
Downloads: Blimp Square Tower w/ Tapered Tube
NOTE: To download files, click the links below or Right Mouse Click and choose "Save Target As..."

Setup Tower with Tube

Setup Tower with Tube and Optional Monitor Mount

Specifications:
Display Size Tower: 12ft high
Display Size Blimp Tube: 10ft wide 48in. high
Frames 1-1/4" (32mm) cold drawn anodized aluminum

Shipping Dimension 27.6" x 16.6' x 38.6"
Shipping costs calculated by dimensional weight
Total Combined Weight Packed: 46.2bs
Graphic Material: Dye-sublimation Stretch Fabric
Kit Includes:
(1) Blimp Square Tower incl. (4) Panels 4'x12′ w/connector clips
(1) 10'x48″ Blimp Tapered Tube with small rotating motor built in hardware.
(2) Medium Nylon Carry Bags
(1) Set of Fabric Graphic Prints - Single-sided with white interior