Custom Graphic for Coyote Tabletop Pop up Display Booth 48x30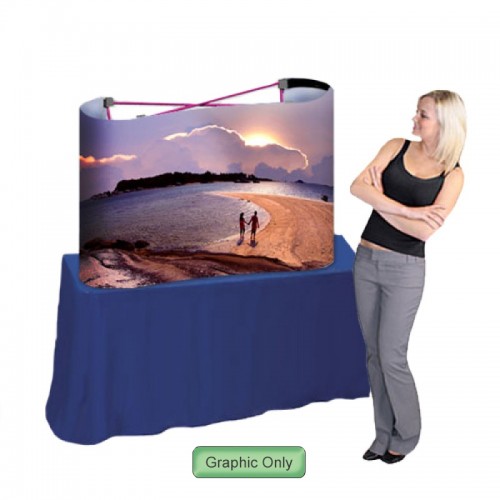 Graphics for Tabletop Pop up Coyote 1x1
The full color printed Coyote Pop Up display will stop traffic at your next event! Using high quality, well designed printed graphics you are sure to get the attention of potential customers. This display makes a big impression at a very affordable price, and is sure to make all your exhibit a success!
*** WARRANTY *** 1 Year Limited Warranty on Graphics
Features and Benefits:
Includes:
1 x Graphic panel
2 x Fabric end cap panels

Submitting Artwork, Formats, Color and Resolution Requirements
Custom Fields
Availability
in stock
Google Feed Exclude
yes
google product category
Business & Industrial > Advertising & Marketing > Trade Show Displays
Google Shipping Rules
standard
Custom Stock Message
In Stock, Printing 3 - 5 days
Specifications:
Shipping Size: 24" x 24" x 6"
Shipping Weight: 10 lbs
Downloads: Graphic only Tabletop Pop up Booth Coyote 1x1
NOTE: To download files, click the links below or Right Mouse Click and choose "Save Target As..."


Tabletop Pop up Display Booth Coyote 1x1, Curved Art Template


Tabletop Pop up Display Booth Coyote 1x1, Straight Art Template


Specifications for Coyote Pop up Display Booth


Set-up Instructions for Coyote Pop up Display Booth