Skycap Promotional Umbrella Custom Printed Hexagon, Full Color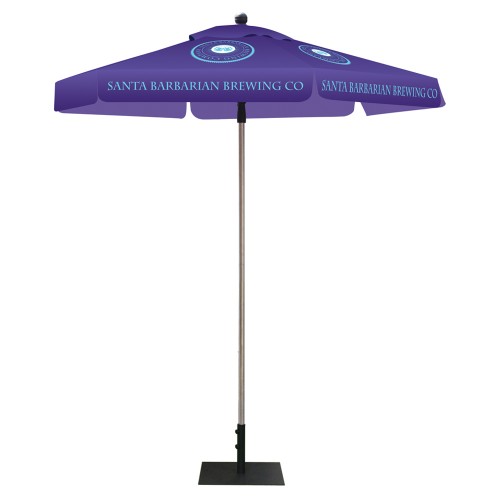 Hexagon Full Color Print Sky Cap Promotional Umbrella Custom Printed in Full Color
The Skycap Umbrella Hexagon frame is constructed of a steel pole with aluminum and plastic components. On top is a plastic finial hub and on the bottom is a plastic runner, which slides up to a latch to lock into place. The Skycap easily stands free with the use of a universal umbrella table. No umbrella table? Add an optional iron square base accessory to make your umbrella free-standing. Skycap umbrellas serve as an excellent way to provide shade for outdoor events. The graphic is printed on special water resistant material and dries immediately during the UV-cured printing process. Finished prints appear shiny, vivid, and have added protection against natural elements
*** WARRANTY *** Lifetime Limited Warranty on Hardware, 1 Year on Graphics.
Features and Benefits:
Easy to set up and take down
Printed on water resistant material making it perfect for outdoor use
Has added protection against all natural elements
Attractive smooth seamless graphic marketing display
Hemmed around sides and bottom edges
Can be placed in umbrella table, or on square base
Graphic Design Services: Available upon request. Please call for a quote (239) 433-9738

Click here for Submitting Artwork, Formats, Color & Resolution Requirements
Custom Fields
Availability
in stock
google product category
Business & Industrial > Advertising & Marketing > Trade Show Displays
Google Shipping Rules
standard
Custom Stock Message
In Stock, Printing 3 - 5 days
Specifications:
Steel pole with aluminum and plastic components
Plastic Finial hub on top and Plastic runner on bottom
Display Dimensions: 110.5" Dia. x 86"H
Graphic Size: 80"W x 40"H (each side)
Shipping Weight: 11 lbs
Shipping Dimensions 7"L x 7"W x 62"H
Graphic Package Includes:
UV Printed Umbrella Canopy
Umbrella Pole
Plastic Hub
Runner, Stretchers and Ribs
Downloads: Skycap Umbrella - Hexagon Full Color Print (Graphic Package)
NOTE: To download files, click the links below or Right Mouse Click and choose "Save Target As..."


Artwork Template for Skycap Umbrella - Hexagon Full Color Print (Graphic Package)


Set Up Instructions for Skycap Umbrella - Hexagon Full Color Print (Graphic Package)


Skycap Umbrella - Hexagon Full Color Print (Graphic Package) Spec Sheet