Alpine 10ft Trade Show Booth, Modular Display with SEG Graphics, Kit B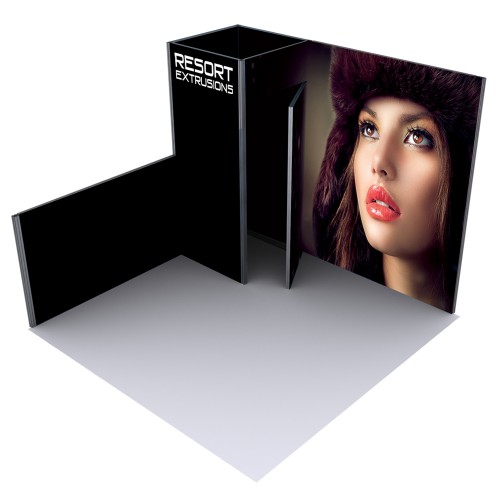 Alpine B 10ft Trade Show Booth with Backdrop, Booth Divider, Private Room and Printed Graphics, 10ft x 10ft x 10ft
The Alpine 10ft modular trade show booth with SEG graphics (kit B) offers lots of advertising space for your marketing materials. Promote on the back wall, the room and the divider section. This modular trade show booth measures 10 feet and is an attractive display that utilizes SEG graphics. Its custom printed door allows for seamless & stylish storage space. Along with offering a wide variety of custom configurations, it can also come with useful and stylish additions such as doors, additional back walls, slat walls, shelving,monitor mounts & much more. The extrusion based frame is user friendly to set up and take down, and makes travel far easier.
*** WARRANTY *** Lifetime on frame; One year on graphics
Features and Benefits:
Large printed areas for wider advertising reach on the show floor.
Portable Lightweight and heavy duty aluminum extrusion frame.
SEG Push fit graphics for seamless wrinkle free advertising
Individual graphic panels make it easy to replace and rebrand for multiple shows.
Individual graphic panels make it easy to replace and re-brand over time.
Graphic Design Services: Available upon request.

Click here for Artwork Guidelines
Custom Fields
Availability
in stock
google product category
Business & Industrial > Advertising & Marketing > Trade Show Displays
Google Shipping Rules
oversize
Product Flag
New
Custom Stock Message
In Stock, Printing 6 days
Specifications:
Display Dimensions: 112.6" W x 94.5" H x 112.6" D
Shipping Weight: 57.5 lbs.
Sturdy aluminum extrusions
Includes hard case
Includes tool for assembly
Stretch Fabric SEG graphics
Graphic application: SEG press-fit into frame
Extrusions lock securely together
Package Includes:
(qty 7) Printed Graphics
(qty 11) 47.25" Vertical Extrusion
(qty 5) Vertical Extrusion Connector
(qty 16) 35.5" Horizontal Extrusion
(qty 2) Extrusion Caps
(qty 25) Lock
(qty 1) Door
(qty 4) Support Connector
(qty 1) Tool
(qty 2) La Caja Hard Cases
Downloads: Alpine Booth B - Graphic Package
NOTE: To download files, click the links below or Right Mouse Click and choose "Save Target As..."



Artwork Template for Alpine Booth B - Graphic Package