Embrace 5ft Tabletop Push-Fit Fabric Popup Display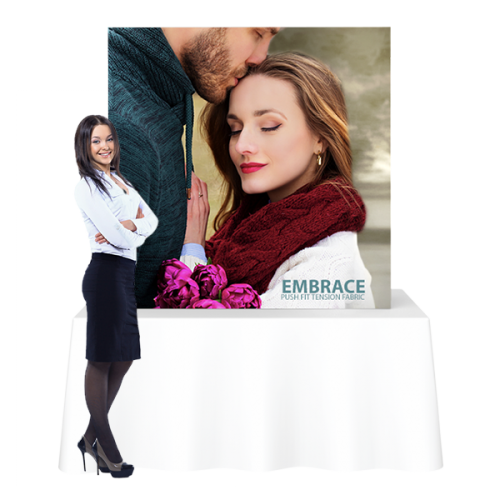 Embrace 5ft Square Tabletop Push-Fit Tension Fabric Display
Embrace™5ft square (2 Quad x 2 Quad) is a sleek, collapsible, portable tabletop display that delivers style with minimal effort. Embrace 5ft square (2 Quad x 2 Quad) features a sleek, collapsible anodized silver frame with channel bars that hold push-fit fabric graphics offered with or without endcaps. No tools are required for assembly. The lightweight and highly portable display packs away as easily as it sets up for the ideal tabletop display!
*** WARRANTY *** Manufactures Warranty on Hardware and Warranty on Graphics
Features and Benefits:
Lightweight straight collapsible anodized silver frame
Rolling carry bag included
Simple assembly
Premium opaque fabric graphic with SEG beading offered with or without end caps
Dovetail on top hubs for lights* to slide onto
Lifetime hardware warranty against manufacturer defects
*Lights sold separately
Graphic Design Services: Available upon request. Please call for a quote (239) 433-9738

Click here for Artwork Guidelines
Custom Fields
Availability
in stock
google product category
Business & Industrial > Advertising & Marketing > Trade Show Displays
Google Shipping Rules
standard
Custom Stock Message
In Stock, Printing 2 - 3 days
Specifications:
Assembled Dimensions: 59.95"W x 59.59"H x 12.92"D
Display Size: Tabletop
Shipping Dimensions: Ships in: 1 x BOX (38"L x 15"H x 9"D)
Approximate Shipping Weight: 20 lbs
Graphic Specifications:
Graphic Width: With no end caps: 59.5", With end caps: 86.5"
Graphic Height: With no end caps: 59.25", With end caps: 59.25"
Perimeter channel bars connect to frame and hold push-fit fabric graphics
Downloads: Embrace 5ft Square Tabletop Push-Fit Tension Fabric Display
NOTE: To download files, click the links below or Right Mouse Click and choose "Save Target As..."



Set-up Instructions for Embrace 5ft Square Tabletop Push-Fit Tension Fabric Display


Single Sided NO Endcaps Embrace 5ft Square Tabletop Push-Fit Tension Fabric Display


Single Sided with Endcaps Embrace 5ft Square Tabletop Push-Fit Tension Fabric Display