Embrace Backdrop 21'w x 15'h Quad SEG Popup with Side Walls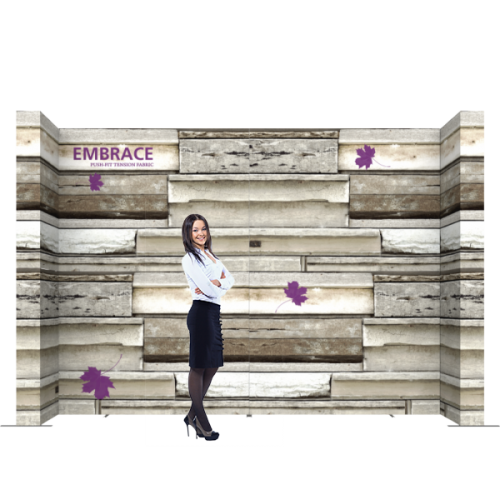 Embrace 21ft Wide x 15ft Tall Quad Stacking Push-Fit Tension Fabric Display
This booth is wide and tall for exhibitors wanting to make a big impression in their industry. The Embrace is a portable booth making it ideal for conventions, trade shows and expos. The Embrace™ quad unit is a u-shaped popup display with SEG push-fit graphics technology. This display spans 21ft wide with four 4x3 frames stacked as the center back-wall. Two 1x3 frames stacked on left and the right to complete the u-shaped framed hardware. No tools are required for assembly. The eight frames are connected together easily with a simple clamp system.
Also included are perimeter channel bars and six graphics. The SEG push-fit fabric graphics have deep colors with a beautiful seamless, clean crisp image that extends to the very edge of the display for maximum exposure.The sleek lightweight anodized silver frame system sets up quick and easy to support the large booth size with minimal effort. This sturdy hardware comes with a lifetime warranty to back it's quality. This is one display that will last a long-time through many uses making a lasting impression on all who see it.
*** WARRANTY *** Manufactures Warranty on Hardware and Warranty on Graphics
Features and Benefits:
Extra large and gives dimension to your exhibit
Simple assembly
Premium opaque push-fit fabric graphics with SEG beading offered single or double-sided, with or without end caps
Eight rolling carry bags included for transportation and storage
Lifetime hardware warranty against manufacturer defects
Kit Includes: 4- 4x3 frames, 4- 1x3 frames, channel bars, linking clamps and stabilizer feet
Graphic Design Services: Available upon request.

Click here for Artwork Guidelines
Custom Fields
Availability
in stock
google product category
Business & Industrial > Advertising & Marketing > Trade Show Displays
Google Shipping Rules
oversize
Custom Stock Message
In Stock, Printing 2 - 3 days
Specifications:
Assembled Dimensions: 256"W x 177.25"H x 51.2"D
Display Size: Tall Kits
Shipping Dimensions: Ships in:1 x BOX (38"L x 15"H x 19"D)3 x BOX (38"L x 15"H x 9"D)3 x BOX (35"L x 15"H x 9"D)1 x BOX (35"L x 177.25"H x 51.2"D)
Hardware Only Weight: 304 lbs
Approximate Shipping Weight: 304 lbs
Graphic Specifications:
Graphic Width: 307.25"W for front graphic
Graphic Width with Endcaps: 332.5"W for full fitted graphic with end caps
Graphic Height: 184.5"H
Perimeter channel bars connect to frame and hold six push-fit fabric graphics
Downloads: Embrace 21ft Wide Quad Stacking Push-Fit Tension Fabric Display
NOTE: To download files, click the links below or Right Mouse Click and choose "Save Target As..."



Set-up Instructions for Embrace 21ft Wide Quad Stacking Push-Fit Tension Fabric Display


Single Sided with Endcaps Embrace 21ft Wide Quad Stacking Push-Fit Tension Fabric Display


Double Sided with Endcaps Embrace 21ft Wide Quad Stacking Push-Fit Tension Fabric Display


Single Sided NO Endcaps Embrace 21ft Wide Quad Stacking Push-Fit Tension Fabric Display


Double Sided NO Endcaps Embrace 21ft Wide Quad Stacking Push-Fit Tension Fabric Display