Embrace 10ft Wide Stacking Push Fit Tension Fabric Display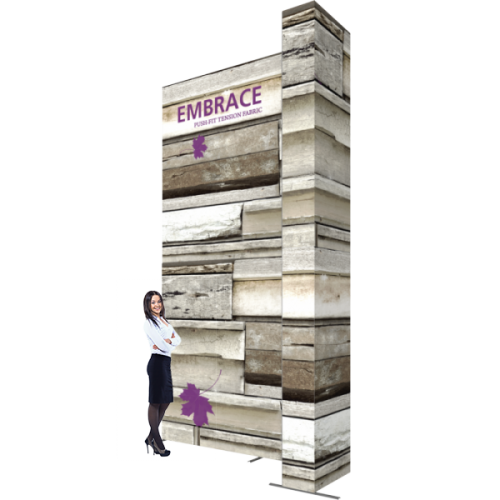 Embrace 10ft Wide Stacking Push-Fit Tension Fabric Display
The Embrace™10ft wide Stacking Push-Fit Fabric display is nearly 15ft tall and creates a commanding presence in minutes! The frames are collapsible, lightweight and portable. The display kit includes four anodized silver collapsible frames, specifically two 3x3 frames stacked as the backwall and two 1x3 frames stacked on the right. Also included are perimeter channel bars and four push-fit fabric graphics, which are offered with or without endcaps, single or double sided. The four frames are connected together easily with a simple clamp system. Embrace displays feature seamless, clean, crisp lines due to the push-fit fabric graphics that hug the collapsible frames. No tools are required for assembly.
*** WARRANTY *** Manufactures Warranty on Hardware and Warranty on Graphics
Features and Benefits:
Kit Includes: 2- 3x3s frame, 2- 1x3 frames, channel bars, linking clamps and stabilizer feet
Simple assembly
Premium opaque push-fit fabric graphics with SEG beading offered single or double-sided, with or without end caps
Four rolling carry bags included for transportation and storage
Lifetime hardware warranty against manufacturer defects
Graphic Design Services: Available upon request. Please call for a quote (239) 433-9738

Click here for Artwork Guidelines
Custom Fields
Availability
in stock
Google Feed Product Image
graphics/00000001/embrace-8ft-lshape-right-stacking-push-fit-tension-fabric-display_double-sided-endcaps-front.png
google product category
Business & Industrial > Advertising & Marketing > Trade Show Displays
Google Shipping Rules
standard
Custom Stock Message
In Stock, Printing 2 - 3 days
Specifications:
Assembled Dimensions: 110.7"W x 177.25"H x 51.2"D
Display Size: Tall Kits
Shipping Dimensions: Ships in:2 x BOX (37"L x 15"H x 9"D)2 x BOX (35"L x 15"H x 9"D)
Hardware Only Weight: 134 lbs
Approximate Shipping Weight: 134 lbs
Graphic Specifications:
Graphic Width: 126.75"W front graphic
Graphic Width with Endcaps: 152"W full fitted graphic with end caps
Graphic Height: 184.5"H
Perimeter channel bars connect to frame and hold push-fit fabric graphics
Downloads: Embrace 10ft Wide Stacking Push-Fit Tension Fabric Display
NOTE: To download files, click the links below or Right Mouse Click and choose "Save Target As..."



Set-up Instructions for Embrace 10ft Wide Stacking Push-Fit Tension Fabric Display


Artwork Template for Embrace 10ft Wide Stacking Display, Single Sided with Endcaps


Artwork Template for Embrace 10ft Wide Stacking Display, Double Sided w/ Endcaps


Artwork Template for Embrace 10ft Wide Stacking Display, Single Sided


Artwork Template for Embrace 10ft Wide Stacking Display, Double Sided