 AnythingDisplay.com
Loading something great for you!
Casita Canopy Tent 10x10 Aluminum with Dye Sub Printed Canopy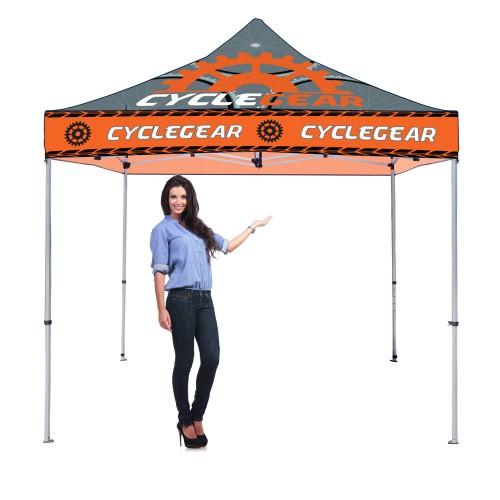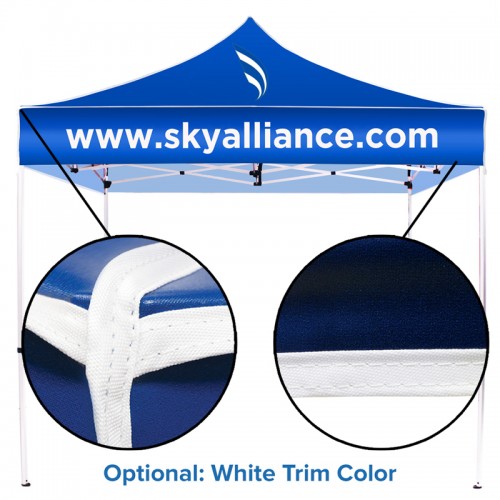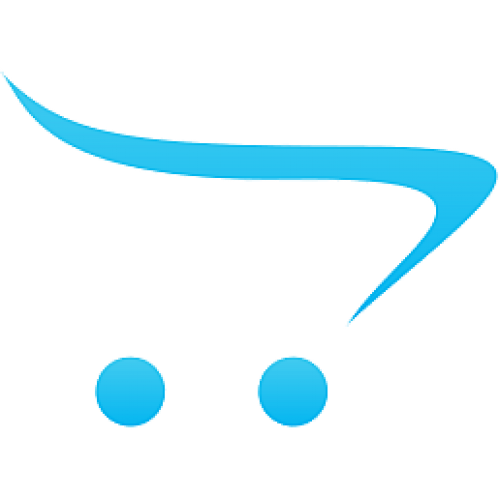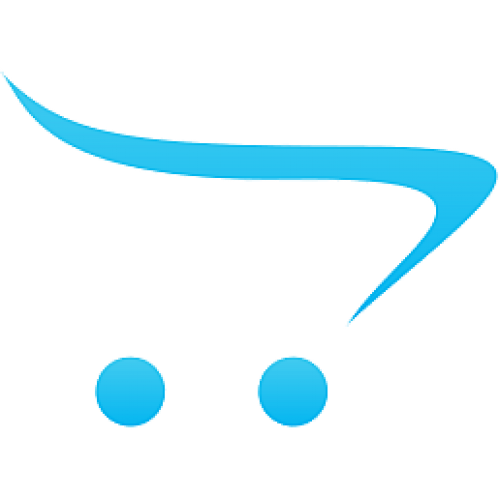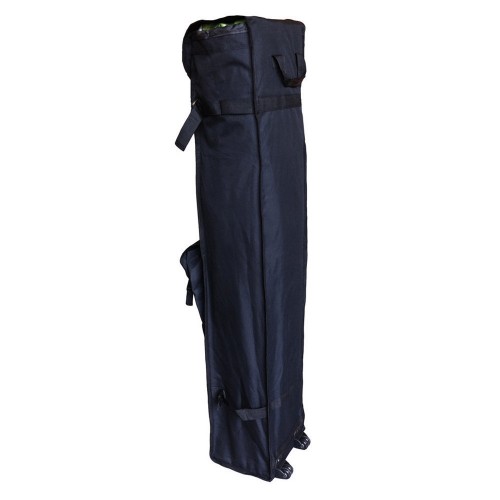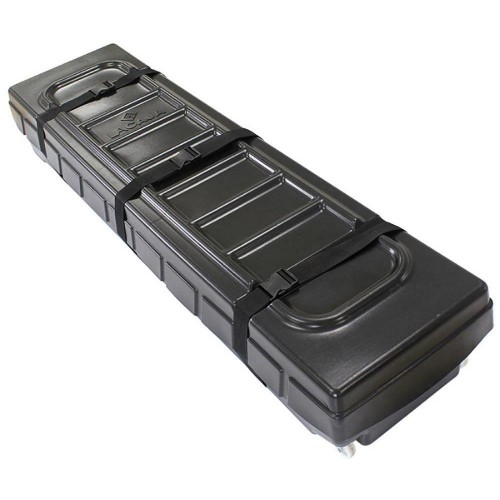 Free Shipping
Product Code: canopy-wd-CST-10UV
Availability: In Stock, printing 3 - 5 days
---

2 or more $842.65
5 or more $825.46
10 or more $808.26
25 or more $795.36
10ft Canopy Outdoor Tent for Outdoor Events, Dye Sub Printing Process with Aluminum Frame
This canopy outdoor tent is made with construction for a lower weight alternative. This tent is perfect for mild advertisers who need a lighter duty but still want to be found and look great. Canopies are an excellent way to advertise your business while providing cover from the elements at outdoor events. This aluminum frame canopy tent is a standard 10 ft. x 10 ft. size with five different heights ranging from 10.5 ft. to 11.25 ft. tall, the telescopic legs snap into place easily set the height. The graphic is printed on special water-resistant material with a UV-cured printing process that dries immediately even in the worst rainstorms. The printed canopy has shiny vivid colors that POP for a professional look that brings attention to your booth. A handy travel bag is included.

Wind Speed Rating: The max wind speed is 20-28 mph.

*** WARRANTY 1 Year on Frame, 1 Year on Graphics
Features and Benefits:
Aluminum construction for lower weight
Promote your business while offering protection from the sun, rain, or wind with this aluminum frame canopy tent!
Water-resistant material with a Dye Sub printing process

Pop-up canopy outdoor tents are portable and quick and easy set up in under 10 minutes!
Includes a travel bag
Kit Includes:
(1) Custom Printed Canopy Graphic

(1) Aluminum Frame
(1) Black nylon carry bag
(4) Bungees
(4) Stakes
Canopy Outdoor Tent Options:

Back-walls: (118.75" w x 88 " h) - requires 1 rail per back wall. These can be single-sided or double-sided. They are fastened to the top of the canopy tent with hook and loop tape and secured at the bottom with a horizontal pole that spans the width of the back wall pole pocket and attaches to the legs of the canopy frame. Backwalls can be assembled onto any side of the canopy.

Sidewalls: (112"W x 47.5"H) - requires 2 rails per side rail (top and bottom) These can be single-sided or double-sided. They are fastened at the top and at the bottom with a horizontal pole which spans the width of the sidewall pole pockets then attach to the legs of the canopy frame. Sidewalls can be assembled onto any side of the canopy.
Cases and bags: The 10ft UV Canopy comes standard with a black nylon bag that has a strap for carrying over the shoulder. An upgrade to our Casita Canopy bag with wheels allows easier transport where longer transport is required by foot, and an upgrade to our La Caja hard case with wheels is designed for shipping offers more protection with a solid, molded plastic construction.

Sandbag Cover: This black nylon sandbag cover is used to protect your sandbag as well as to easily attach your sandbag to one leg of the Casita Canopy for added weight against wind. Included is the cover and hook. Do not fill this cover with sand. To use, slip hook through the grommet located on the handle of the cover and then close hook around leg of the canopy. With the cover already on the ground, open hook and loop tape opening and place sandbag* inside the cover. Close hook and loop tape opening, and you're done.
Graphic Design Services: Available upon request.

How to setup your graphics
Specifications:
10ft x 10ft Canopy, 118.75"W x 135"H x 118.75"D
Aluminum frame, 28mm

Min. height 99"H, Max. height 133"H
Graphic canopy size 120"W x 87.25"H
Graphic material Dye Sup printed (water resistant)

Back wall: 118.75"W x 88"H
Half wall: 112"W x 47.5"H
Shipping Dimensions: s 63"L x 13"W x 13"H (over size)
Shipping Weight: 70 lbs (Fame, canopy and bag)
Graphic Specifications:
For exact dimensions, please refer to template below
Hemmed around side and bottom edges

Un-printed areas will be white
Downloads: Outdoor Popup Canopy Tent
NOTE: To download files, click the links below or Right Mouse Click and choose "Save Target As..."


Artwork Template for Custom Printed Canopy Top


Artwork Template for Canopy Tent Backwall


Printable Spec Sheet for Casita Popup Canopy Tent


Setup Instructions for Casita Popup Canopy Tent


Throw Templates: 6ft 3-sides | 6ft 4-sides | 8ft 3-sides | 8ft 4-sides