Booth Accessories
Trade Show Booth Accessories, Printed Display and Supplies
Trade show booth accessories help your exhibit look great, flow smoothly and stay organized.
Showing 1 to 9 of 9 (1 Pages)
Trade Show Promotional Booth Displays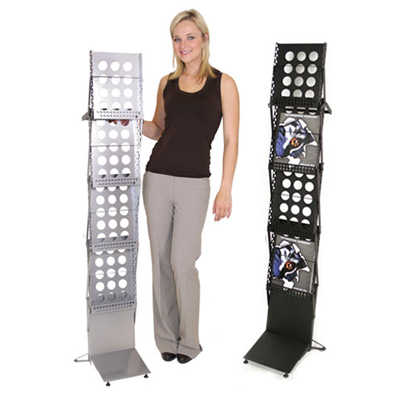 It's important to design your booth with furnishings that help the customer feel welcome and find information easily. Personalised counter displays and printed table covers make a great first impression and give you room to meet with your customer face to face. Space is always a concern at conventions and trade shows so we make our booth furnishings with as small a footprint as possible for the most efficient use of space.
One of the best booth additions for maximizing space and keeping your booth area clutter frees are promotional literature racks and catalogue holders. They hold your handouts and catalogues and present them to shoppers in a professional and stylish way. We have crowd controllers and information signs that are great booth additions to keep the booth organised. All our booth fixtures have a convenient portable design that makes transportation to your next event easy to manage.
What are the benefits of exhibit accessories?
Branding smaller displays right out front attract shoppers
Stay organized with extra storage and literature racks
Create a professional and inviting booth with flow
Counters offer places to meet quickly with customers
Catalog holders present your marketing material in style
Crowd controllers lead customers where you want them
Coordinate colors for style and branding
Booth accessories are custom printed to you graphic designs and branding. All displays are printed in the USA.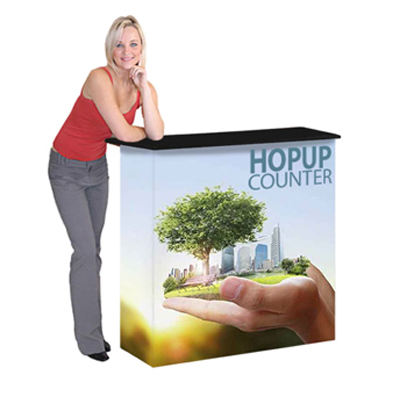 Why add a portable counter? Counters make a great first impression with potential customers. They sit right out in front and are the first to be seen by shoppers who will elevate your brand from the start. Trade show and counters function as ideal platforms for greeting customers, obtaining customer contact information, handing out flyers, giving demonstrations, sales promotions all while adverting your business. Many of our counters have shelves and space for your personal items so your booth stays looking clean and professional. Counters are also popular as podiums for speakers at conferences and seminars
Crowd controllers direct customers where you want them to go. They also advertise your business and promotions white customers are waiting. The barrier system is lightweight, sports a custom printed tension fabric, and easy to manage. Create a pleasant privacy space, pedestrian guidance, or divider suitable for any trade show. Custom printed dye-sub fabric graphic drapes over entire aluminium frame and zips taut. Choose a single or double sided graphic printed with your graphic designs and branding.
We offer a variety of styles and configurations to make your booth look and function its best. Add banner stands, flags, tower displays, multi-media displays and sign stands. Anything Displays wide selection is designed to meet your needs. These advertising displays are effective for expos, conventions, trade shows and retailers in every market. In addition to booth accessories we also offer point of purchase stands custom printed with your branding. Browse the different styles, sizes and options to find the perfect match for your décor!
---