Flags Custom Printed
Flags stand above eye level and serve as both symbolic and real representations of our beliefs. Like us at Anything Display, Floridians know how important it is to show college pride by waving a flag from our car or home. The real question is, why shouldn't you be already flying a flag?
Flag Banners, Custom Made Flags, Marketing Flags
Flags work great for outdoor events and indoor marketing as well. The waving motion attracts attention to your business, booth or event. We have several different styles and sizes to choose from.
Tall Waving Marketing Flags Get You Noticed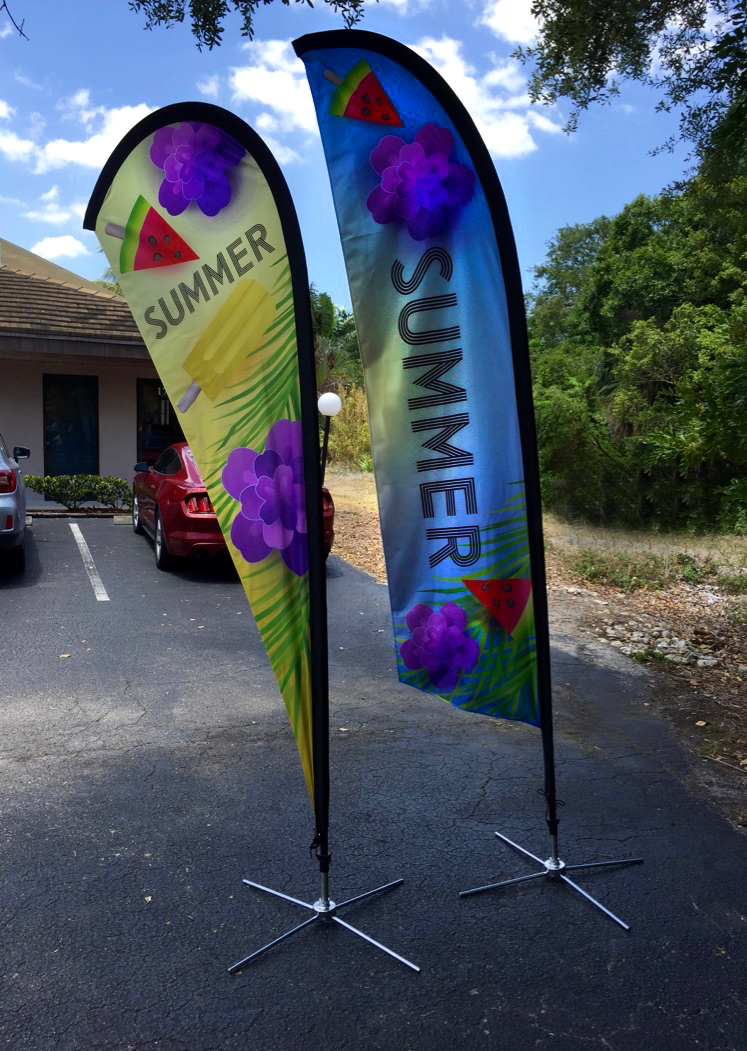 If you want to attract some attention to your business then these tall waving flags are the perfect solution. We have several different styles and sizes to choose from. We offer feather flags, teardrop flags, telescopic flags, side walk flags, short flags and super tall flags. If you're not sure which flag is the best for your application just give us a call, we have a flag to meet any budget. All our custom made flags are designed to be portable and easy to setup. The flag pole kits are light weight and pack compact, when ready to use simply assemble the pole, attach the flag and set into the flag base. The base is what etermines whether you display indoors or outdoors, you can purchase both bases and move your flag as needed. Multiple flag banners make an amazing display and
Flying flags get you noticed, style, color and motion attract shoppers!
Many sizes and styles to choose from
We offer different bases for indoor and outdoor use
Incredibly light weight with a handy travel bags
Available with single or double sided graphics
Custom printed in the USA
Flags are custom printed to your graphic design specifications or we can design the flag for you. Most flags are printed dye sublimation on a weather resistant polyester flag material. We print single and double sided, one sided flags read reverse on the back side. We have fast turn times for printing so it's never too late to get your flag personalised. Feather flags are the most popular, there shape maximises the advertising space and we offer many sizes to choose from.
Our outdoor advertising flags stand up to the elements!
---