Booths and Exhibits
Buy trade show booths from "Anything Display Company" it has wide collection of trade show display products and custom trade show booth available at reasonable price. We provide top quality trade show display and realize that an eye-catching display can make any exhibition stand out from the crowd and drive foot traffic to your booth.
Trade Show Marketing Booths and Exhibits
Our exhibits are portable, easy to manage and look great. Available in variety of sizes and styles to choose from.
Showing 1 to 4 of 4 (1 Pages)
Pop-Up Displays, Fabric Displays, Modular Booths and Truss Systems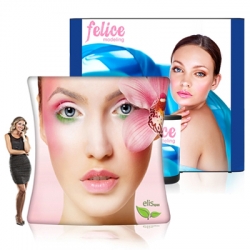 Event trade show displays and exhibits are available in variety of sizes and styles, all provide long lasting value! We strive to offer you displays that are easy to setup, portable and look great. All of our booths are custom printed and present the main attraction in your trade show exhibit. A trade show booth is a marketing team's best and biggest display for stopping traffic at your booth. These displays have lots of room for branding and graphic designs of your choice. Personalized banners are printed on a fabric material or a semi ridged roll-able media. Fabric displays have become the most popular with our customers. Fabric is printed with dye sublimation that offers deep rich colors and they are easy to install and transport. SEG fabric frames are the latest technology in booth exhibits, they offer a smooth edge to edge graphic, the frame is sturdy and appears frame-less from the front.
What you should look for in a trade show booth
Make sure it meets your budget and still has impact
Shop for the right size and style to portray you properly in the marketplace
Check that the size meets the convention center specifications
Its vital to stand out from the crowd, look for taller, bigger, brighter or just plain different
Portability, check how easy is the booth to setup and transport
Turn time, if you need it fast call ahead
If you do a many shows per year be sure to get the most durable display, look for lifetime warranty's
High quality printing and print media is huge, check the print resolution
Our graphic design team helps you get the best print for you display, make sure you have artwork and printing support
Call your supplier to see if they pick up and respond to your needs, we pick up.
Booth graphics are custom printed with your marketing designs, branding and promotions. All displays are custom made or stocked and printed in the USA.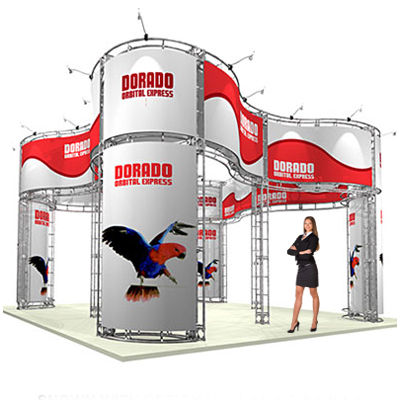 How to choose a trade show booth. The biggest deciding factors are budget, size of you exhibit space, portability and how often the display will be used. We offer a booth to fit any budget. Choose from small table top displays, EZ tube backdrops, popup displays, SEG booths, modular displays, large island displays and truss systems. If you're unsure of what will work best for your application let our team help you choose. With the right booth in your exhibit you are sure to get attention and win more business for your business.
Booth displays can be setup as in-line booths such as backdrops, back walls. Or you may choose to display in the center of your booth with towers and arches. Island exhibits are very large booths that can cover the entire space. Modular displays can be setup in many sizes for each trade show exhibit you attend. A booth display is a marketing teams best and biggest attraction source for stopping traffic at your booth.
The most compelling advantage of trade show booths is that graphic designers can create big bold interesting headlines, contrasting colors, with a creative graphic for best results. Regardless of the style you choose, our marketing displays are designed to attract attention and promote your marketing message to win you more business.
Your marketing booth is the one customers will remember! Excellent for trade show exhibits, business promotions, schools, airports, retail stores, marketing events, exhibits, malls, chamber of commerce events, or anywhere you need to promote your message in style.
A good display booth is the one that customers remember!
---