Accessories
Deck out your display at a trade show or conference with banner finishing, trade show booth accessories, carry bags, display lighting, flag accessories, shipping cases, table covers, and table runners. Custom accessories that display your brand name and logo highlight your attention to detail and connection with your products. Our accessories are custom-made to fit and hold business materials and banner. Literature stands allow for passive engagement with your booth during peak walk-through periods. Display lighting allows you to highlight specific products and items and come in handy in a dim venue. Accessories also will enable you to design booths to accentuate certain features and priorities particular interactions. Setting up anti-theft iPad holders and graphic stands gives visitors something to interact with.
Exhibit, Booth Accessories and Supplies
Personalized displays that will enhance your events. We offer many displays to help keep you organized and looking professional.
Trade Show Displays Make An Exhibitors Life Easier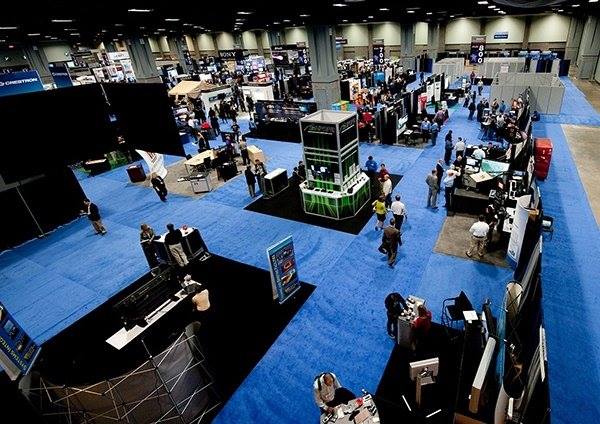 The right trade show accessory can make your life easier and make your show more successful. Display booth accessories are stylish and help you stay organized to keep your exhibit looking professional! Many of our displays are custom printed with your graphic designs and branding. Trade show booth accessories can give you a big impact for little investment. Some of the popular displays we personalize are trade show counters, podiums, crowd controllers and table covers. We have accessories to help you get organized and look professional such as Literature racks, Banner Finishing, Catalogue Holders, Shipping Cases, Carry Bags, Display Lighting, Table Covers & Runners.
A great booth is inviting, organized and has lots of information for shoppers. First impressions are everything, its imperative to look clean and professional. Having storage to keep odds and ends put away is key. Counters and table covers offer storage plus they provide a place to meet customers face to face while advertising your business. We all get busy so a literature stand is a great place to offer your flyers and catalogues until you are free. Display lighting attracts customers and creates ambience.
Enhance and organize your trade show exhibit for a personalized professional look!
---