Retractable Stands
Retractable banners are a cost-effective solution for those looking for a re-usable and portable display. Logos and company information can be directly printed onto retractable banners.
Retractable Banner Stands, A Trade Show Display Favorite
Retractable displays are a great choice for trade shows, conventions, and promotional events on the go.
Showing 1 to 23 of 23 (1 Pages)
Retractable Displays are Ideal for Trade Show Marketing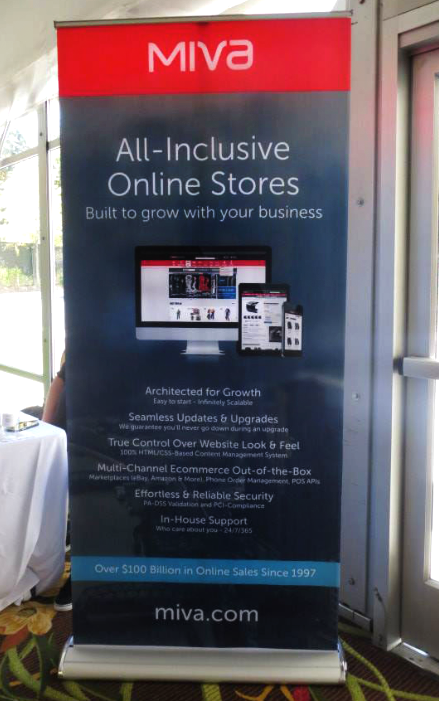 Display banners pull up to promote and retract down to pack up. These tall banner stands get you noticed and provide lots of room for your branding and graphic designs. We offer several different styles, widths and quality levels to choose from that are sure to meet your budget. Retractable trade show displays are the fastest standing banners to promote with, they come pre-loaded and ready to setup. The banner is stored inside the base so when you are ready to promote you simply raise the pole, and pull up the banner. When you are ready to pack up, the banner automatically rolls down into the base for secure storage and transportation. The base protects your banner from damage during storage and transit. The whole assembly packs up compact inside the stylish carry bag.
Why choose a retractable banner?
Low profile design with plenty of advertising space
The set up is super fast! Just minutes to be up and running
Banner simply pulls up for setup and rolls down into the base for storage
Light weight and easy to manage
Easily replace graphics with the built in graphic leader strip
Holds a fabric or vinyl banner
Comes with a convenient travel bag
The custom printed display banner signs are printed high resolution on smooth opaque vinyl or display fabric. The vinyl is a smooth opaque that hold its shape and resists curling. The colors are vibrant and really pop on the vinyl with its semi-gloss appearance. Vinyl is easy to clean and long lasting. Fabric banners are printed dye sublimation for deep rich colors. The fabric has a matte finish that is preferred for photo shoots. Fabric is popular with customers that have a fabric booth so the colors and material match.
Retractable banners print fast and setup fast!
---