EZ Tube Displays
Buy EZ Tube Display
and design your trade show to advertise your brand and attract more audiences as we have a collection of EZ tube displays like EZ extended fabric banner stands, EZ tube backdrops, EZ tube display booth walls, flip double-sided displays, wave tube displays and EZ tube connect fabric display they design in lightweight, easy to assemble and provide a seamless, wrinkle-free backdrop for your exhibition.
EZ Tube Fabric Displays
Trade Show Backdrops, Banner Stands and Graphic Walls
EZ Tube Folding Counter Display with Shelf and Carry BagThe EZ Stretch Fabric Counter Display is por..
Showing 1 to 1 of 1 (1 Pages)
About Stretch Tube Fabric Displays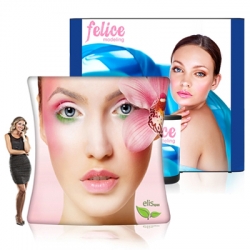 EZ Tube displays are affordable trade show advertising displays when presentation is everything. The fabric graphics are custom printed with your branding, promotions and graphic designs. The entire line of EZ tube displays are designed to be portable and easy to setup. We offer free shipping on many of our fabric displays. The banners are pillow case style, you simply slide the graphic over the frame and it zips up snugly. This creates a stunning seamless advertising surface across the frame structure. The personalized banners with your theme and colors are sure to get attention. A great trade show exhibits stands out from the crowd, uses eye catching colors and photos, explains exactly what you do and who you are. This sets the stage for your team to meet and engage customers. Trade show fabric backdrops work great for multiple booths lined up with matching fabric that makes a huge impact and boasts style and professionalism.
Features and Benefits:
Fabric displays are easy to setup an take down
Pillow case graphics fit snugly over the tubular frame
Creates a wrinkle free smooth seamless graphic
Light weight for convenient transport and shipping
Attractive wheeled travel bag is included
Available in single or double sided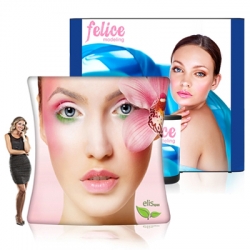 The stretch tube frames are tubular sections that fit easily together similar to tent poles. The setup requires no tools and the instructions are easy to follow. Once the frame is setup the graphic simply fits over the frame to create a seamless and eye catching marketing display!

Most of the EZ tube displays come with a wheeled bag or a carry bag. Lighting is available to highlight your booth and create ambiance. Matching table covers great a great first impression.
FREE Ground Shipping on Specially Marked Displays
---