Banner Displays
Choose from banner stands, custom printed flags, hanging fabric banners, QSEG quick wall display, SEG banner frames, and fabric banner displays to display your brand messaging at a trade show, exhibition, convention, or promotional event. All of our banners are built with an aluminum frame. Our fabric banners are printed using dye sublimation to create a vivid color display. Many of our customers consider QSEG and SEG walls and banner frames because they are silicone-reinforced. SEG walls allow you to give customers a more intimate experience in a busy conventional hall. Don't forget that all of our banners can be custom printed to display anything.
Marketing Banners
Showcase your Product, brand and message! Portable, cost effective and designed to set up quickly & easily!
Trade Show Banner Displays Attract Attention

Custom printed banners create a compelling marketing display that attracts attention to your booth. These banner displays are specially designed for trade shows, conventions, and promotional events. Whether you're looking for a tall banner, wide banner, hanging banner or a standing banner we have you covered. All our marketing banners provide lots of room for promoting products, graphic designs or simply to increase brand recognition. We offer several different styles, sizes and quality levels to choose from that are sure to meet your budget. All of our banner displays are portable and designed for easy setup and pack up. Our banner displays are made from aluminum for durability and lighter weights for lower cost shipping. They all pack up compact for easy transit and storage. Most displays come with a handy carry bag.
Portable, fast setup and cost effective
Features and Benefits:
We offer several banner options to meet your budget
Portable displays are easy to setup an take down
Built light weight for convenient transport and shipping
Large banners look great and are easily seen by shoppers
Work with our professionals to get the best display for your project
Custom printed with fast turns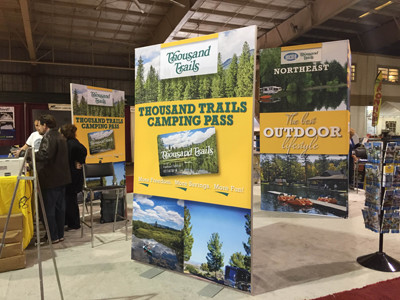 The custom printed banners are printed with your graphic designs or you may choose to have us design your banner for you. We print high resolution on either smooth opaque vinyl, display fabric or a stretch fabric material. The banner vinyl is a smooth opaque material that holds its shape and resists edge curling. The colors on vinyl are vibrant and really pop with its semi-gloss finish. Vinyl is easy to clean and long lasting. All fabric banners are printed dye sublimation that provides deep rich colors. The fabric has a matte finish that is preferred for photo shoots. Fabric is popular with customers that have a fabric booth so the colors and material match.
FREE Ground Shipping on Specially Marked Displays
---