EZ Banners and EZ Signs For Sports and Recreational Facilities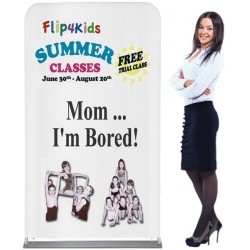 Every sports and recreational facility utilizes signs and banners. It's a fast friendly way to communicate with visitors and with your regular members and customers too. Signs offer an easy way to communicate, to manage traffic and manage guest activities within the facility. You can use these signs to organize and promote the services and resources you offer in a very professional way.
Side-walk Signs and Banner Stands for Sports Facilities
A high-quality entrance sign on the sidewalk sign can make an immediate impression on visitors. What a person first sees when arriving at your facility will set the tone of your relationship. Remember a pictures worth a thousand words. A professional high-resolution picture on a sign in your entrance way conveys 1,000 words of professionalism in a split second.
EZ Tube Banner Signs For Your Sport Facility
Beautiful full color EZ tube entrance sign with swap out graphics come in a variety of shapes and sizes (3 ft wide x 5.5 ft high as shown). Each allows you the flexibility to change banners as needed. You can change the banners in minutes like changing a shirt. Unzip and remove the one fabric graphic, put the next sign over the frame and zip it up, you're done! Use the signs over and over again to convey key information immediately as needed.
For example on days with inclement weather: Please remove your shoes before entering the building. During yoga classes: Please be quiet class is in session. After a special event: Please clean up and show respect to others using the facility. Seasonal Specials: Don't forget to order your costumes for the recital. Promote your business: The Home of Regional and State Championships!
EZ Tube Portable Wall Partition Displays
Create distinct areas of privacy and efficiency in wide open spaces with a 10, 20 or 30 foot EZ tube wall display. It sets up in minutes as a beautiful professional wall to accommodate many situations. Block visual exposure to kids working on a special dance routine, separate two classes that run simultaneously.

You can pack up these wall signs in minutes and bring it on the road with you. Use it as a picture back drop with your customized branding and logo at a recital or competition. Use it to promote your facility at other public events, like at schools or business expos.

You can use the entire EZ tube system to organize different sections of your sports facility. Create themed graphic displays throughout your enterprise. Utilize the variety of shapes and sizes to deliver a professional coherent themed look throughout your entire establishment.

You can start right now to customize your sports facility with our EZ banners and displays. Decorate your space in a new refreshing way, for you and everyone else associated with your sports facility.