Indoor Light Box Sign Frames and Backlit Graphic Displays
We offer the very best in Light Box Sign Displays to meet your needs while working within your budget.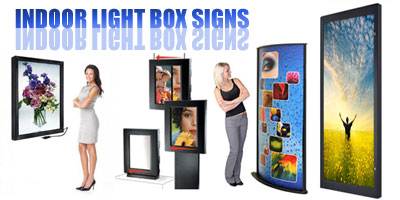 High impact lightbox sign will showcase your advertisement in a compelling backlit graphic display! Our lighted display systems offer a complete sign & poster display solution for branding and advertising your marketing strategies. We offer lighted displays for table top signs's,tradeshow tower signs, scrolling, lighted poster frames, window signs, and digital displays. We offer a wide variety of light box sign solutions to meet your needs and tour budget. Display all your marketing materials and messages with our display systems and watch your sales climb.
Lighted Signs Showcase Your Marketing Message
Bright Illumination and High Impact Printed Graphics!
Marquee Signs are attention grabbers featuring chasing bulbs plus a backlit graphic area in the center.
Snap Frame lightbox's have an aluminum snap frame for easy tool free graphic changes.
The Double Sided Snap Frame light box has an aluminum snap frame and holds two graphics.


Locking Signs prevent tampering in high traffic areas while providing a high impact graphic display.
You can use these lighted display boxes for restaurants, lounges, bars and nightclubs to get more business. Display your promotions with a light box sign and it will get attention. Display promotion signage with a light box sign at your register and watch sales of the display item go up accordingly. Place a light box display sign on your trade show booth, get your tradeshow booth noticed and increase visitors with lighted sign frames. You can use sign frames to easily swap out display promotions.
Our lighted display boxes go beyond just tradeshow exhibits. They are great to promote restaurant signage, let diners know about desserts seeing a beautiful picture if a mouth watering dessert displayed in a large light box or sign frame works great. The advantage of our display boxes and sign frames is that you can swap out promotions very easily and often. The sale of beer, wine, spirits, alcohol, brandy, mixed drinks will all go up when you display and promote them using a light box or sign frame.
Tradeshow Exhibitor displays come in a variety of sizes and price points These lighted display boxes are great for promoting any business, the payoff from good promotion through the use of displays will get your patrons to buy more. Isn't this the very reason we use sign frames and lightboxes anyway? Display "Anything Display" is your one stop shopping for all of your point of purchase display needs. Including: Light boxes, lighted signs, tradeshow displays, sign frames, tradeshow booths and graphics.