Graphic Only for Antares Truss 10ft x 20ft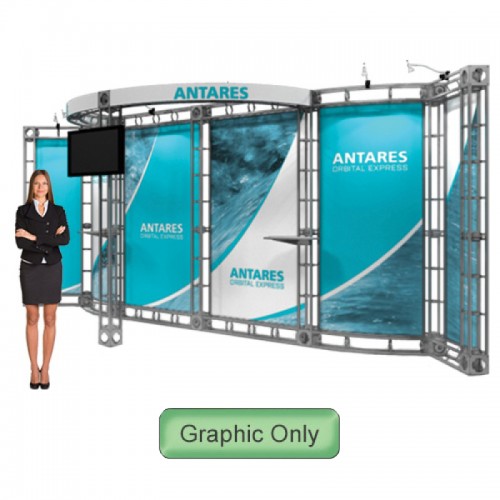 Graphic Only For 10ft x 20ft Antares Truss System Display Back Wall Booth Exhibit
The Antares Orbital Truss has a stunning set of truss graphics have straight and curved panels that can be viewed from the front of your tradeshow booth for a compelling marketing display. The unique shapes provided in this display allow for a more stylistic approach to marketing.

Truss graphics do not require any tooling to install. They can attach either via hook and loop for fabric prints, or magnet strips for rollable PVC prints. Truss graphics are produced on high quality material, and finished over a span of a few days to ensure utmost quality. Oxford fabric graphics have a matte finish, and can be more long lasting than PVC prints due to their ability to be handled more easily. PVC prints are excellent for projects where a higher quality images are required, as PVC is less porous than fabric. We recommend an OCL Case to transport PVC prints safely and efficiently, one case can fit up to 6 PVC prints at a time. The fabric prints can ship in the box they arrive in, or in the hard case along with the truss frame itself.
*** WARRANTY ***
Features and Benefits:
Super easy installation, just press firmly on the frame where the graphics can be displayed
Truss graphics can be interchanged as long as they're of equal size
High quality prints are finished with care to ensure longevity
Truss graphics can be replaced individually, allowing changes whenever desired
Each print is test fit to a truss frame before shipping out to ensure size consistency


Antares Graphics Include:
Full color fitted graphics
Optional Material: PVC or Oxford
Shipping Method:
Graphic Design Services: Available upon request.

Submitting Artwork, File Formats, Color & Resolution Requirements
This truss system setup video uses a small truss system as an example
Custom Fields
Availability
in stock
Google Feed Exclude
yes
google product category
Business & Industrial > Advertising & Marketing > Trade Show Displays
Google Shipping Rules
standard
Custom Stock Message
In Stock, Printing 5 - 7 days
Specifications:
Designed for a 10' x 20' booth
Ready to ship in only 2-3 Days

Shipping Weight: approximately 20 lbs
Shipping Dimensions: 24" x 24" x 6"
Graphics Specifications:
Artwork: All graphics require 2 inch bleed on all four sides
We advise you to leave all images and text 2 inches from visible edges
Graphics are affixed either by hanging them magnetically, or via a retractable graphic pack system
Graphic shipping and storage: 2 OCL graphic cases are suggested
Downloads: Graphic Only Trade Show Exhibit Booth 10ft x 20ft Antares Truss System
NOTE: To download files, click the links below or Right Mouse Click and choose "Save Target As..."


Instructions and Templates for Antares Truss System