Wavetube Modular Display Backdrop with Angled Top 10ft W x 8ft H Kit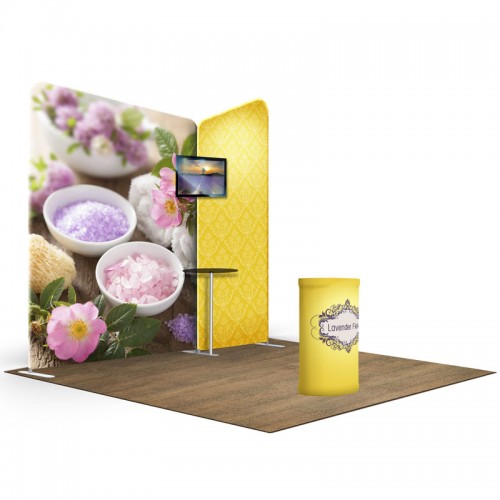 Angular Top Modular Display Backdrop, Display Kit With Booth Table and Counter Case 118"w x 91"h
You are sure to stop passersby in their tracks with the visual lines of this display. This asymmetric back wall kit is custom printed on stretch fabric material. When setting up the back wall display graphics it is a pillowcase banner that fits snugly over the frame to create a seamless and eye-catching display. Create more visual interest by using this angular display which can be rearranged to your liking. This booth kit is great for a 10 x 10 booth space. The tubular frames are made from aircraft grade aluminum. This kit is great for trade shows, special events, or as an indoor promotional display. You are sure to stop passersby in their tracks with the visual lines of this display.
Features and Benefits:
10 Foot display kit comes with a backdrop, table, and counter
Fabric graphics are machine washable
Attractive angles to make your display unique
Smooth and seamless dye-sublimation printed graphics for deep rich colors
Clean edge to edge display with no wrinkles
Kit Includes:
Booth- 118"w x 91-101"h X 18"d
2 Pillowcase graphics
Tubular frame
Display Table
Medium Carry Bag with Graphic Wrap
Optional:
Single or double sided graphics
Single sided displays can either have a black or white back fabric color
Monitor Mount - can support up to 10lbs.
Graphic Design Services:
Available upon request.

Click here for Artwork Guidelines
Custom Fields
Availability
in stock
google product category
Business & Industrial > Advertising & Marketing > Trade Show Displays
Google Shipping Rules
standard
Product Flag
New
Custom Stock Message
In Stock, Printing 3-5 days
Specifications:
Booth - Angled Back Wall Pieces
Display Size: 118"w x 91-101"h X 18"d
Pillowcase graphic fits snugly around the frame and zips on the top
Material: stretch fabric dye sublimated
Shipping Weight: 67 lbs
Shipping Dimensions: 24"w X 41.5"h X 18.5"d
Counter -
Display size: 52"W x 40"H
Aluminum tubular frame
Includes: Black nylon carry case
Acrylic countertop
Material: Stretch fabric dye sublimated
Shipping Weight: 27 lbs
Shipping Dimensions: 21" x 7 1/2" x 50"
Graphic Specifications:
Please use the template for safe zones and bleeds
Print Turn Time: 3-5 days after proof approval
Downloads: Wavetube Angled Backdrop Display Kit, Display Table, and Case
NOTE: To download files, click the links below or Right Mouse Click and choose "Save Target As..."

Template for Modular Angular Wave Display Single Sided Graphic

Template for Modular Angular Wave Display Double Sided Graphic

Template for Medium Hard Case Graphic

Optional Template for Convertible Case Graphic

Booth Setup for Modular Angular Wave Display