 AnythingDisplay.com
Loading something great for you!
7.5 ft. Sunbird Teardrop Spike-Base Flag for Outdoor Advertising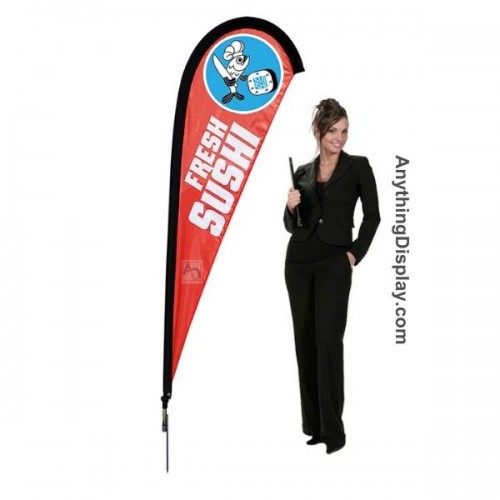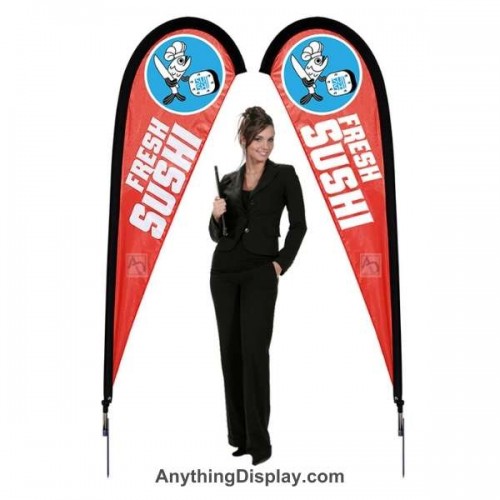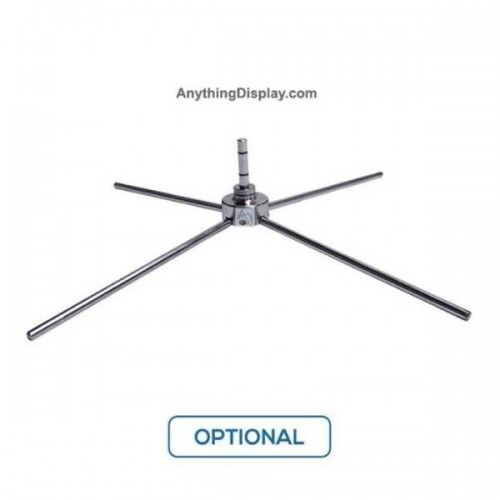 Free Shipping
Product Code: flag-ws-sunbird-7ft-SB-SM
Availability: In Stock, Printing 2 - 3 days
---

2 or more $74.10
10 or more $70.30
25 or more $68.40
Teardrop Flying Flag 7.5 ft Sunbird Custom Printed Flag Teardrop, Ground Spike
These Sunbird teardrop banners are a great way to attract shoppers and advertise your business! This flag banner stands 7 feet tall with a flexible pole that keeps the fabric taut and readable at all times. The custom printed flag banners are a polyester mesh material printed dye sublimation, hand stitched, and made in America. The single sided flag images are printed on one side only and the ink bleeds through the mesh fabric material to the backside of the flag. Logos, images and text will be visible on the back, but will read in reverse. The double sided flags read correct from both directions; this is a good option if your graphic is complex or for indoor applications. Our custom made printed flags are tall and shapely making them very effective for store fronts, festivals, fairs and events. You will need the cross base for indoor applications.
*** WARRANTY *** Lifetime on Frame, 1 Year on Graphics
Features and Benefits:
Flying flags get you noticed, style, color and motion attract shoppers!
Teardrop flags last longer, they have no free edges to flap and fray.
WIND SPEED RATING is 18-23 mph
Spike base for outdoor in ground use
Incredibly light weight with a handy travel bag
Available with single or double sided graphics
Made in the USA
About Flag Graphics: We print your custom flag on a polyester mesh material that allows good air to flow, this helps the graphic last longer. The flag graphic includes a black trim which it is sewn on the edge of the graphic, leaving a pocket for pole insertion. The flags are printed with dye sublimation. Our inks heavily saturate the material to create a 95% bleed through for single sided flags, the back side reads reverse. For double sided flags we print two (2) separate flags with silver-gray blocker material in the middle.
Graphic Design Services: Available upon request.

Submitting Artwork, Formats, Color and Resolution
NOTE: To download files, click the links below or Right Mouse Click and choose "Save Target As..."


Artwork Template for Sunbird SINGLE SIDED


Artwork Template for Sunbird DOUBLE SIDED


Printable Spec Sheet for Sunbird Flag

Specifications:
Flag Pole Height: 7.5 feet high
Display Dimension: 24"W x 82"H
Single Sided custom printed flag on polyester knit mesh flag material
Pole Sleeve: A black reinforced pole sleeve is attached to the pole side of the flag banner
Pole: 2 piece aluminum pole assembly with inter locking base pole
Includes nylon travel bag
Includes ground spike base for outdoor in ground use
Shipping Weight is 10 lbs
Shipping Dimensions: 4" x 4" x 60"
Graphic Specifications:
For graphic dimensions, please see template below
Single Sided: Image is printed on one side of the banner the back side shows up to 95% reverse image of the front side.
Flag Material: 100% Polyester knit mesh flag fabric 5.3mil thk, great ink penetration
Finishing: Hemmed all around with a black reinforced pole pocket sleeve on the pole side
We will send proofs for your approval
Print turn time is based on orders with up to 6 sets of graphics
Flag Bases:Sold separately
Cross Base is a collapsible chrome plated steel cross base, width is 32" across (indoor use or add the water bag for outdoor use)
Ground Spike: Chrome plated steel ground spike for in-ground applications (outdoor use)
Triangle Spike: Sturdy redesigned spike base makes ground insertion easier—especially for tougher terrains (outdoor use)
Water Bag: Fills with water for added weight and stability for outdoor applications and high traffic areas
Downloads: Sunbird 7ft Flag Banner
NOTE: To download files, click the links below or Right Mouse Click and choose "Save Target As..."


Artwork Template for Sunbird SINGLE SIDED


Artwork Template for Sunbird DOUBLE SIDED


Printable Spec Sheet for Sunbird Flag