 AnythingDisplay.com
Loading something great for you!
30 ft x 7.5 ft Embrace SEG Push Pin Backdrop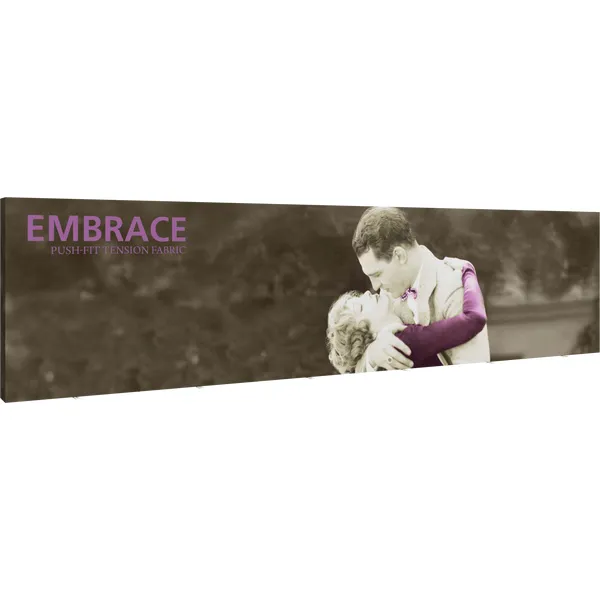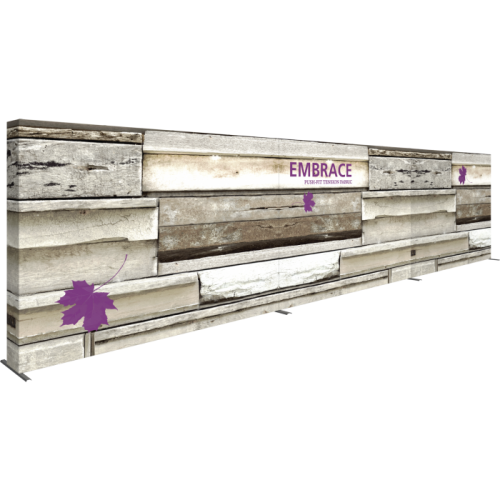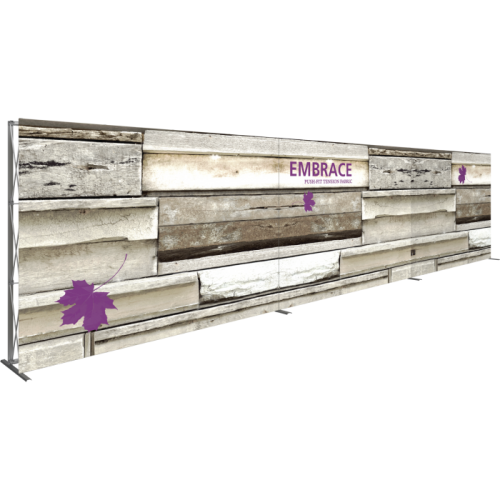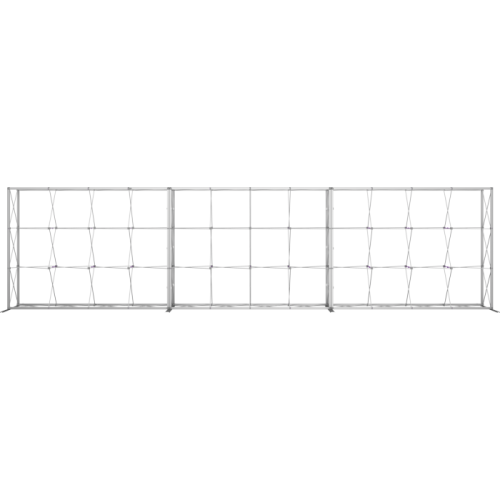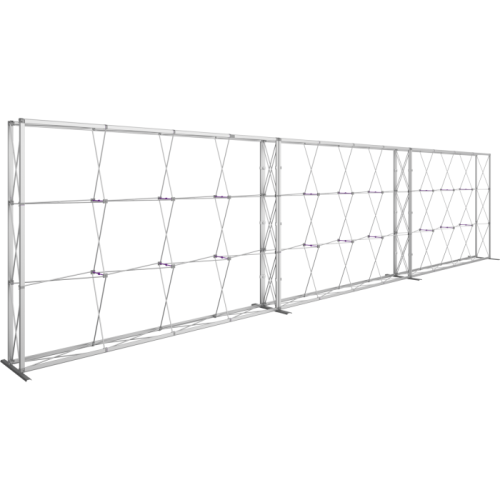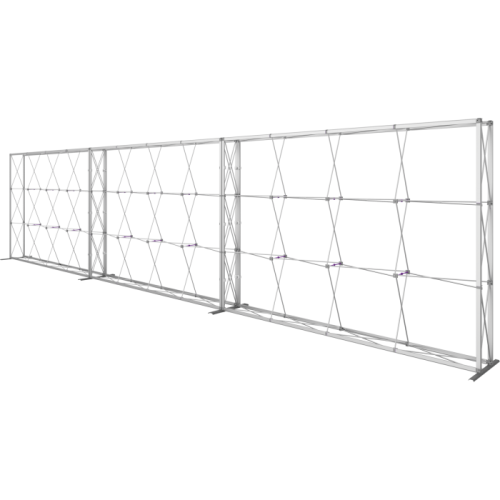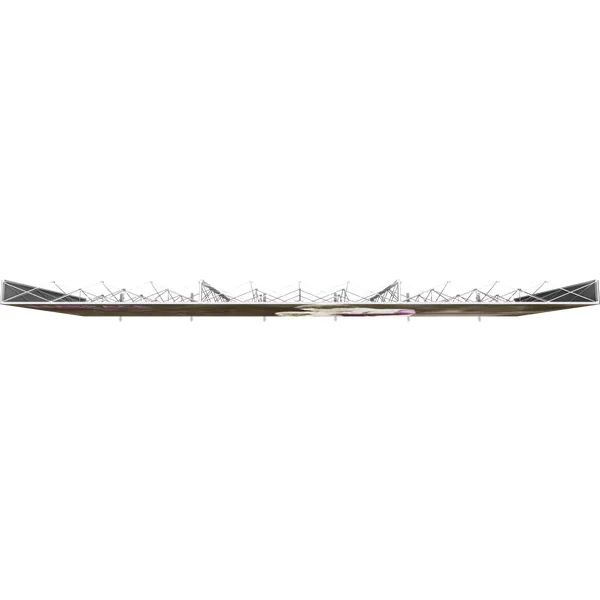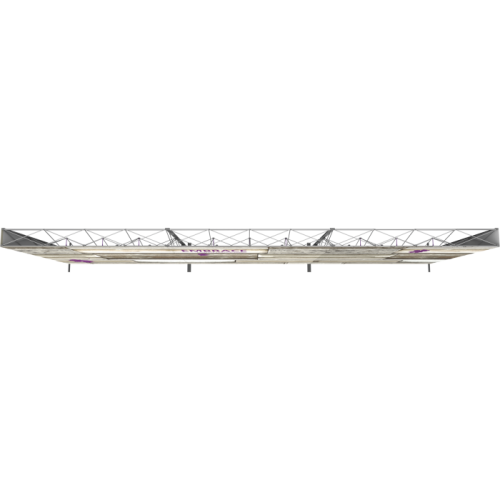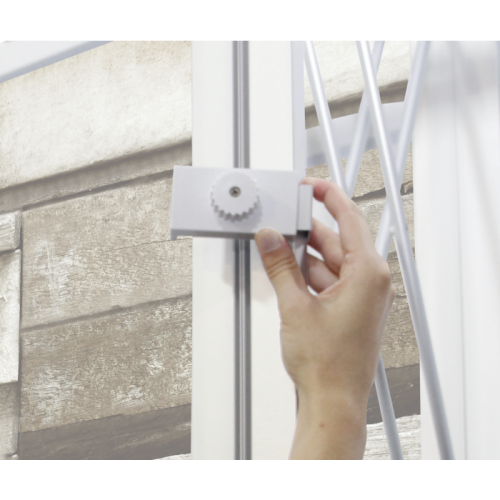 Product Code: emb-ob-fh-12X3
Availability: In Stock, Printing 2 - 3 days
---

2 or more $4,582.50
5 or more $4,465.00
10 or more $4,347.50
25 or more $4,230.00
30 ft x 7.5 ft Embrace SEG Push Pin Backdrop
In the world of business marketing, making a lasting impression is paramount. In an environment saturated with competition, it's crucial to stand out and capture the attention of potential customers. One effective tool for achieving this is the "30 ft x 7.5 ft Embrace SEG Push Pin Backdrop." This versatile and eye-catching display system has the potential to elevate your business's marketing efforts, leaving a memorable impact on your target audience. In this essay, we will explore how this innovative backdrop can help promote your brand, attract more audiences, and ultimately drive success in your marketing endeavors.
Buy this 30 foot wall display and dramatically impact your visitors. This extra large back wall display stands sets up as multiple frame attachments 12 Quadrants x 3 Quadrants as collapsible 4x3 frames. Held taught with tension supported snap in channel bars, linking clamps and stabilizer feet to support the display.
The perimeter channel bars include a SEG channel to thumb-press fit your custom designed fabric graphics. This item comes with multiple rolling carry bags for easy transportation and storage. The display hardware frame is made of sturdy anodized silver collapsible frames. Due to it's large size and heavy weight packages this item requires a customized freight quote, these prices can vary drastically depending on load availability and destination. You can purchase this and when ready to ship we will get you a custom quote or can ship on your account. How ever you purchase this impressive monster display your business will leave a monster impression on visitors.
A Visual Masterpiece:
The "30 ft x 7.5 ft Embrace SEG Push Pin Backdrop" is more than just a backdrop; it's a visual masterpiece that can transform any promotional event or trade show into a memorable experience. Here's how it can help promote your business effectively:
1. Maximum Visibility:
This colossal backdrop, with its impressive 30 feet in width and 7.5 feet in height, commands attention. In a crowded event space, it acts as a beacon that draws attendees to your booth. Its size alone ensures that your brand and messaging can be seen from afar, making it an ideal tool to maximize visibility.
2. Professionalism and Quality:
The backdrop utilizes Silicone Edge Graphics (SEG) and a push pin attachment system. This combination gives your display a sleek, frameless appearance. It exudes professionalism and quality, reflecting positively on your brand. Potential customers are more likely to engage with a business that invests in high-quality marketing materials.
3. Ease of Setup:
One of the standout features of this backdrop is its tool-free assembly. This means you can set it up quickly and effortlessly, saving precious time during event preparations. The convenience of setup allows you to focus on engaging with your audience and showcasing your products or services.
4. Versatility:
Whether you're participating in a trade show, conference, product launch, or corporate presentation, this backdrop adapts to various marketing scenarios. Its versatility ensures that you can make the most of your investment across multiple events, making it a cost-effective solution.
5. Customization:
Personalization is key in marketing. This backdrop can be customized with your brand's colors, logo, and marketing messages. You have the creative freedom to tailor it to your specific promotional needs, allowing you to convey your unique selling points effectively.
The Promotion Benefits:
The "30 ft x 7.5 ft Embrace SEG Push Pin Backdrop" is more than just a display; it's a strategic marketing tool that offers a multitude of benefits for promoting your business or brand:
1. Enhanced Brand Visibility:
The sheer size of this backdrop ensures that your brand and messaging are impossible to ignore. It acts as a magnet, attracting attendees to your booth, increasing foot traffic, and generating interest in your offerings.
2. Credibility and Trust:
The professional appearance of the backdrop speaks volumes about your business. It conveys a sense of credibility, trust, and attention to detail, which can positively influence the perceptions of potential customers.
3. Audience Engagement:
The visual appeal of this backdrop goes beyond mere aesthetics; it serves as a conversation starter. Attendees are more likely to engage with your booth when it stands out, providing you with opportunities to showcase your products or services and build meaningful connections.
4. Memorability:
A striking backdrop has a lasting impact. Attendees are more likely to remember your brand long after the event has concluded. This can lead to post-event inquiries, conversions, and long-term customer relationships.
In conclusion, the "30 ft x 7.5 ft Embrace SEG Push Pin Backdrop" is a powerful marketing tool that can significantly enhance your brand's presence at trade shows and events. Its impressive size, professional appearance, ease of use, versatility, and customization options make it a strategic choice for attracting more audiences and promoting your business effectively. By investing in this backdrop, you not only make a statement but also set the stage for success in your marketing endeavors. It's not just a backdrop; it's the cornerstone of your marketing strategy, helping your brand leave a lasting impression on the world.
Features
Lightweight straight collapsible frame
Kit Includes: 3 4x3 frames, linking connectors and stabilizer feet
Perimeter channel bars connect to frame
Channel slits to hold thumb-pressed push-fit fabric graphics
Simple tool free assembly
Premium opaque fabric graphic with SEG beading
offered with or without end caps
Three carry bags included
Specifications:
Assembled Dimensions: 350"W x 90"H x 29"D
Display Size: 30' Inline
Shipping Dimensions: Ships in: 3x BOX (38"L x 15"H x 11"D)
Approximate Shipping Weight: 184 lbs
Graphic Specifications:
Perimeter channel bars connect to frame and hold push-fit fabric graphics
Downloads: Embrace 30ft Full Height Push-fit Tension Fabric Display
NOTE: To download files, click the links below or Right Mouse Click and choose "Save Target As..."



Set-up Instructions for Embrace 30ft Full Height Display


Single Sided NO Endcaps Embrace 30ft Full Height Display


Single Sided with Endcaps Embrace 30ft Full Height Display