 AnythingDisplay.com
Loading something great for you!
11 ft x 7.5'h L shaped Embrace Monster Backwall Right 02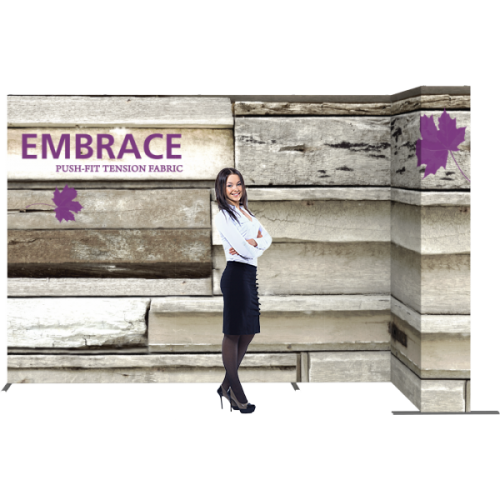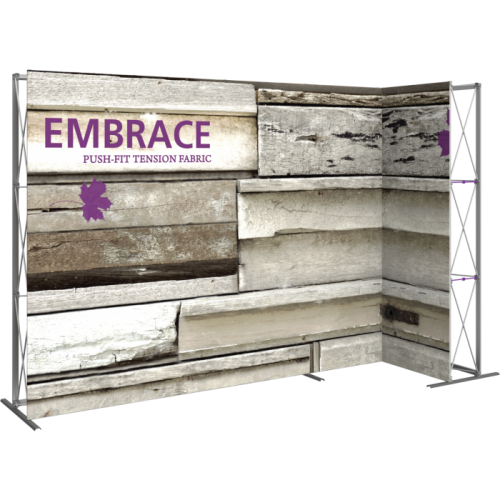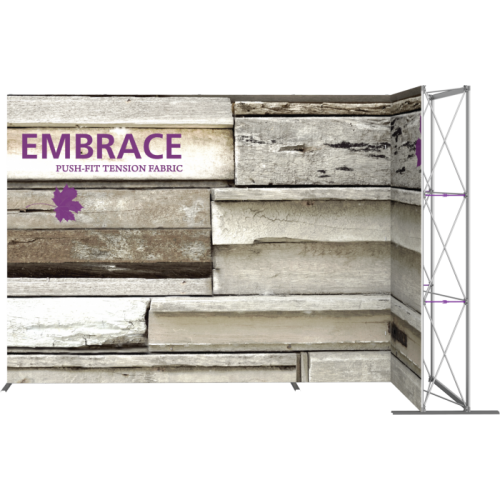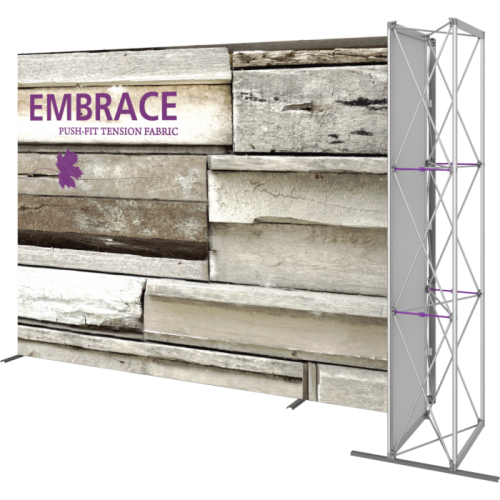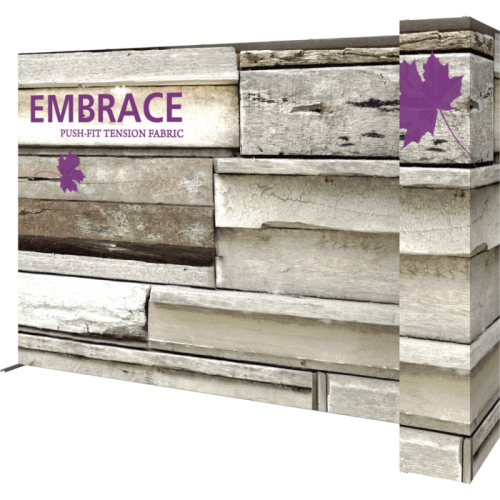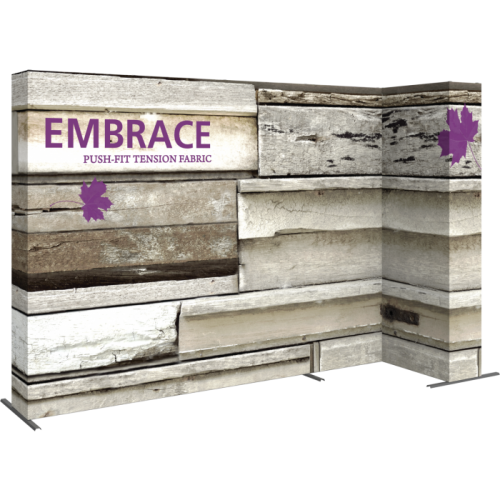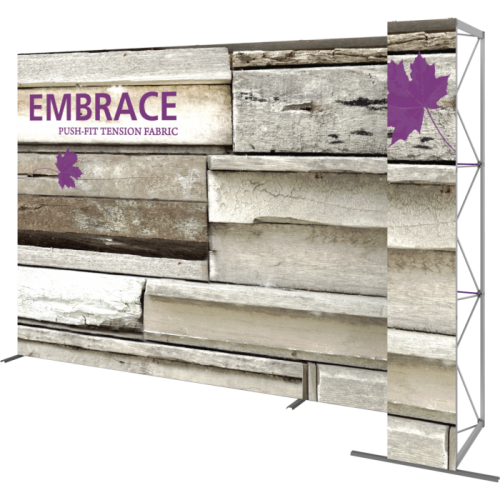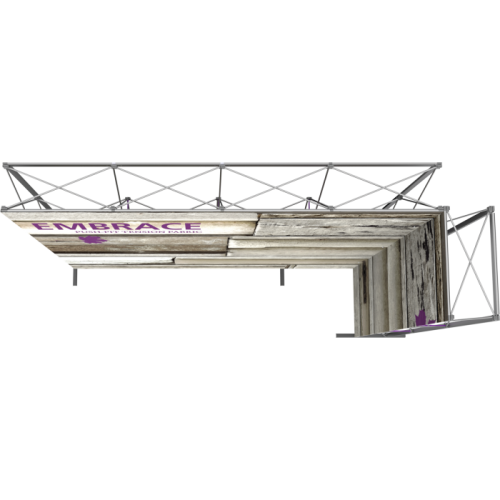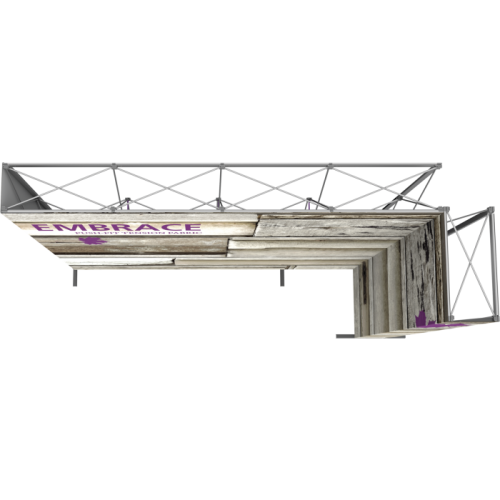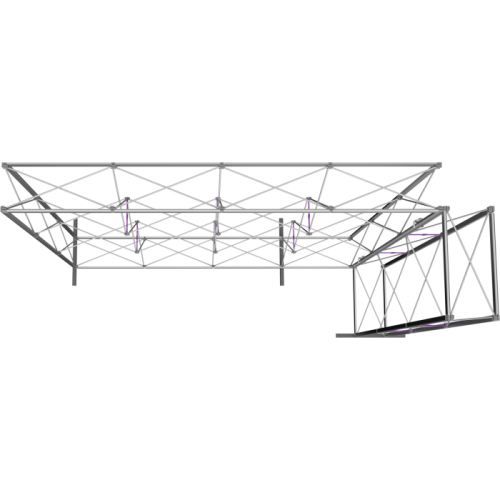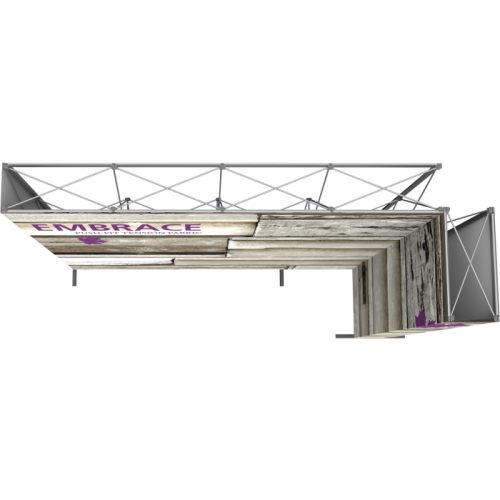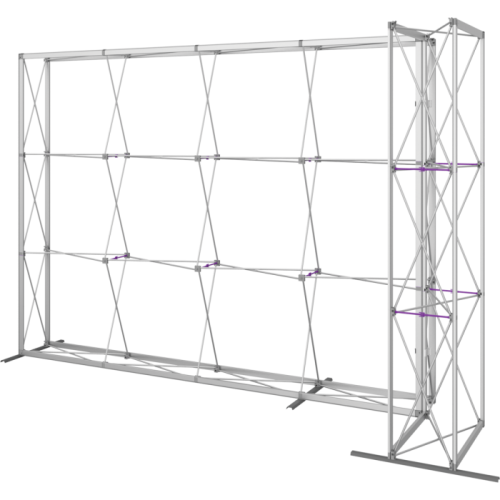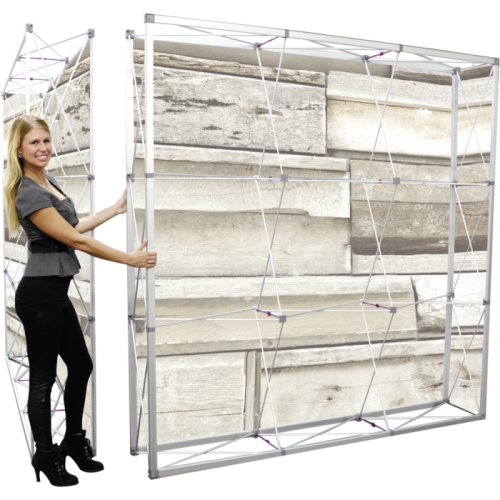 Product Code: emb-ob-LR11
Availability: In Stock, Printing 2 - 3 days
---

2 or more $2,029.85
5 or more $1,977.81
10 or more $1,925.76
25 or more $1,873.71
Maximizing Brand Visibility: The Power of the "L-Shaped SEG Monster Backwall Marketing Display"
In this competitive world of trade shows and events, capturing the attention of attendees and standing out from the crowd is paramount. One effective way to do so is by utilizing cutting-edge display solutions, such as the "11 ft x 7.5 ft L-Shaped Embrace SEG Backwall Display." This innovative marketing tool provides a unique and eye-catching way to promote your brand, drawing in audiences and leaving a lasting impression. In this essay, we will explore the advantages of using an L-shaped SEG Monster Backwall Marketing Display and how it can attract audiences to advertise your brand effectively in trade shows and events.
L Shaped SEG Monster Backwall Marketing Display
Buy this Extra Large Embrace™ L Shaped Marketing Display Booth, This display that stands like a monster at 7 feet tall towering high as backdrop to your business display. The L shape spans 11 ft long with 4 foot corner. This impressive display sets up as one 4x3 frame attached to one 1x3 frame, connected with a simple tool-free clamp system. Tension supported by snap in channel bars, linking clamps and stabilizer feet. The perimeter channel bars include a SEG channel to thumb-press fit your custom designed fabric graphics. This items come with two rolling carry bags for easy transportation and storage. The display hardware frame is made of sturdy anodized silver collapsible frames (one 4x3 in the center and one 1x3 frame on the L side. Purchase this impressive monster display for your next event and leave a monster impression on visitors.
Advantages of the L-Shaped SEG Monster Backwall Marketing Display
1. Exceptional Visibility: The L-Shaped SEG Monster Backwall Display is designed to maximize visibility. Its towering design ensures that your brand message can be seen from afar, even in a crowded event space. This heightened visibility sets the stage for attracting a larger and more diverse audience.
2. Unique and Memorable: The L-shaped design is distinctive and memorable, setting your brand apart from the competition. It's not just another rectangular booth; it's an immersive experience that attendees won't easily forget. The uniqueness of the display can pique the curiosity of passersby, prompting them to visit your booth and engage with your brand.
3. Seamless Graphic Integration: SEG (Silicone Edge Graphics) technology allows for seamless graphic integration, creating a smooth and visually appealing backdrop. This ensures that your brand's message and imagery are displayed in the best possible way, further enhancing the visual impact and helping to convey your brand story effectively.
4. Versatile Configurations: The L-shaped design is versatile, allowing for various configurations to suit different event spaces and booth sizes. This adaptability means that you can use the same display at multiple events without the need for substantial alterations, saving time and money.
5. Enhanced Brand Storytelling: With the additional space provided by the L-shaped display, you can tell a more comprehensive brand story. Incorporating elements such as interactive touchscreens, product displays, and multimedia presentations can help you engage the audience on a deeper level, making your brand more compelling and memorable.
6. Improved Traffic Flow: The L-shaped display naturally guides the flow of foot traffic through your booth, creating an inviting and interactive space. Attendees are more likely to explore your booth when the layout is conducive to easy navigation and engagement.
How this L-Shaped Embrace Monster Display Attracts Audiences
1. Curiosity and Aesthetics: The unconventional L-shaped design stands out in a sea of traditional booth layouts. Its unique shape piques attendees' curiosity and draws them closer to explore further.
2. Impactful Brand Messaging: The display's size and visual appeal make it an ideal canvas for powerful brand messaging and imagery. Attendees are naturally drawn to compelling visuals and messages that resonate with them.
3. Interactive Engagement: The versatile design allows for interactive elements like touchscreens, demos, and product displays, encouraging attendees to spend more time at your booth. This engagement provides an opportunity to educate them about your brand and offerings.
4. Networking Opportunities: The open and welcoming layout of the L-shaped display encourages networking and conversations, making it easier to establish connections with potential clients and partners.
Conclusion:
In a world where competition for attention is fierce, the "11 ft x 7.5 ft L-Shaped Embrace SEG Backwall Display" offers a unique and advantageous solution for brand marketing in trade shows and events. Its exceptional visibility, distinctive design, and immersive potential make it a powerful tool to attract audiences and promote your brand effectively. By harnessing the advantages of this innovative display, your brand can leave a lasting impact on event attendees, driving engagement, and ultimately, success in the competitive market.
Specifications:
Assembled Dimensions: 132"W x 89.4"H x 51.2"D
Display Size: 20' Inline
Shipping Dimensions: Ships in:1 x BOX (38"L x 15"H x 9"D)1 x BOX (35"L x 15"H x 9"D)
Hardware Only Weight: 64 lbs
Approximate Shipping Weight: 64 lbs
Graphic Specifications:
Perimeter channel bars connect to frames and hold push-fit fabric graphics
Downloads: Embrace 11ft L-shape 02 Push-Fit Tension Fabric Display
NOTE: To download files, click the links below or Right Mouse Click and choose "Save Target As..."



Set-up Instructions for Embrace 11ft L-shape 02 Push-Fit Tension Fabric Display


Single Sided with Endcaps Embrace 11ft L-shape 02 Push-Fit Tension Fabric Display


Double Sided with Endcaps Embrace 11ft L-shape 02 Push-Fit Tension Fabric Display


Single Sided NO Endcaps Embrace 11ft L-shape 02 Push-Fit Tension Fabric Display


Double Sided NO Endcaps Embrace 11ft L-shape 02 Push-Fit Tension Fabric Display