 AnythingDisplay.com
Loading something great for you!
2.5ft Embrace Tabletop Push-Fit Tension Fabric Display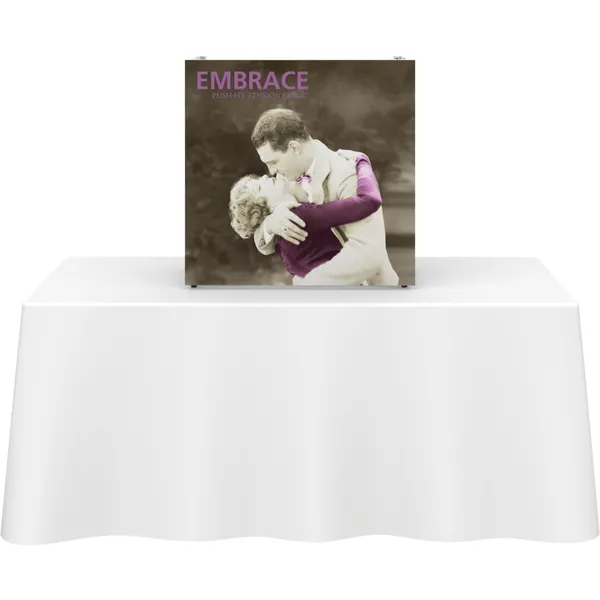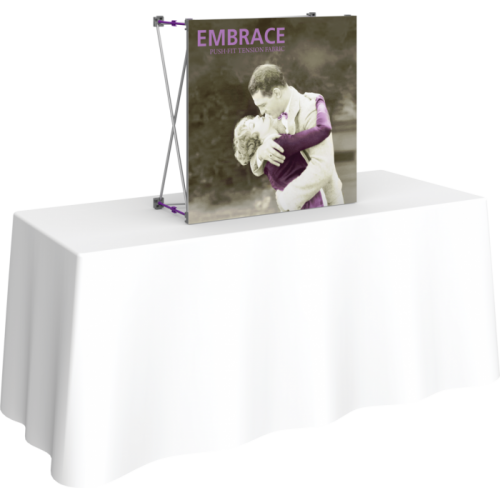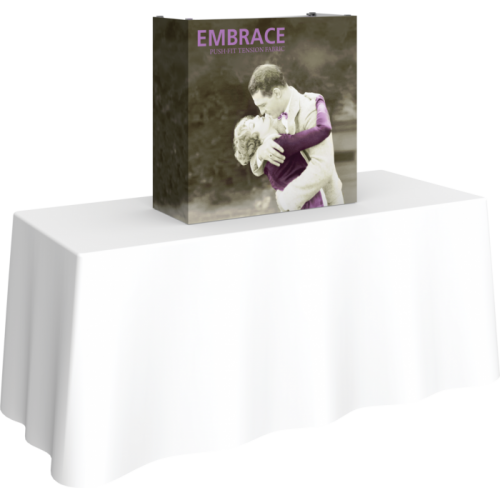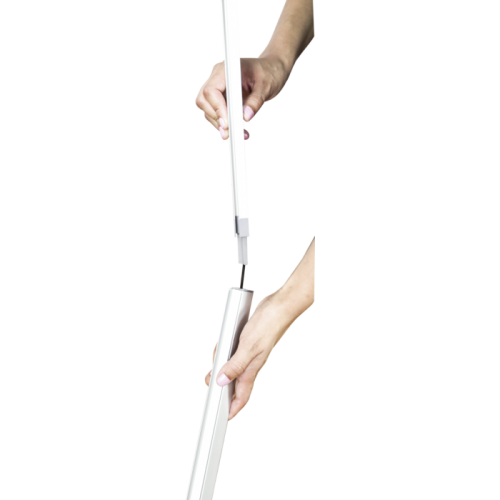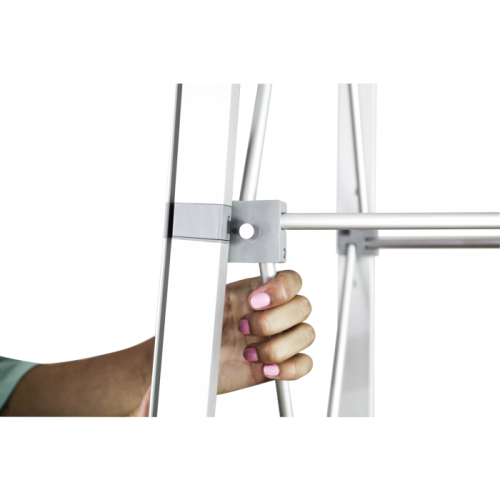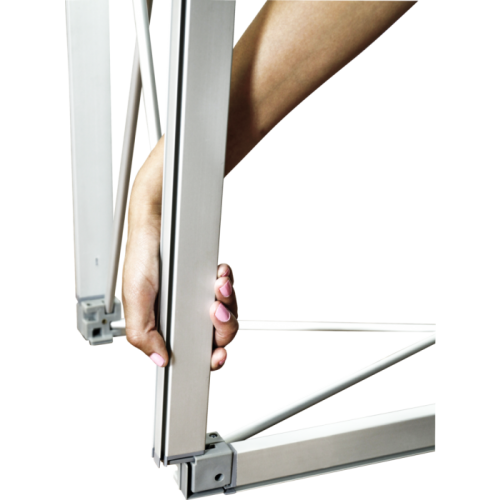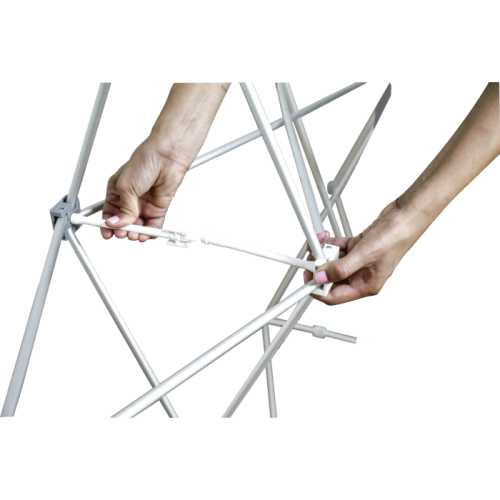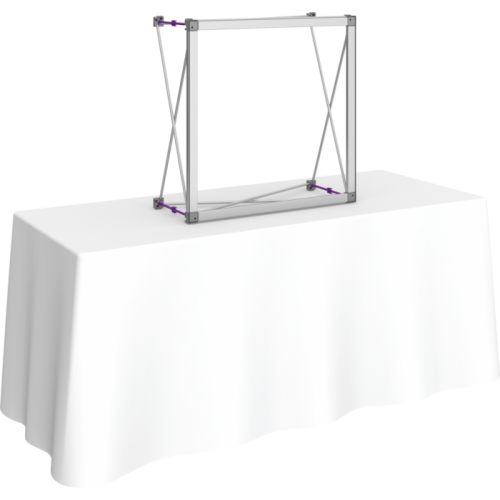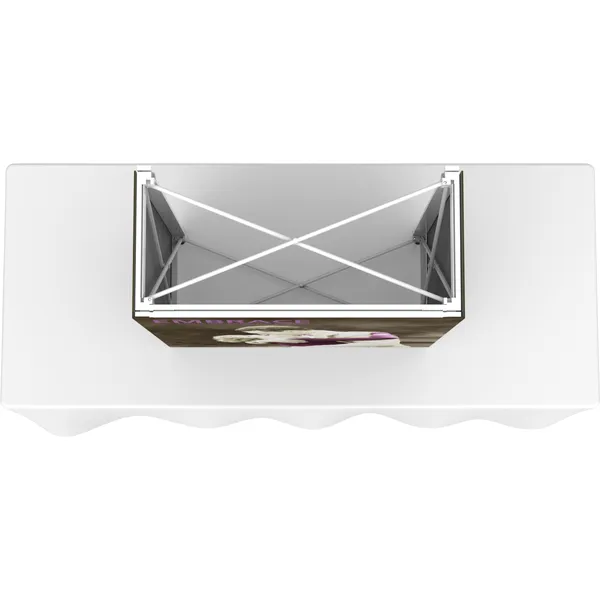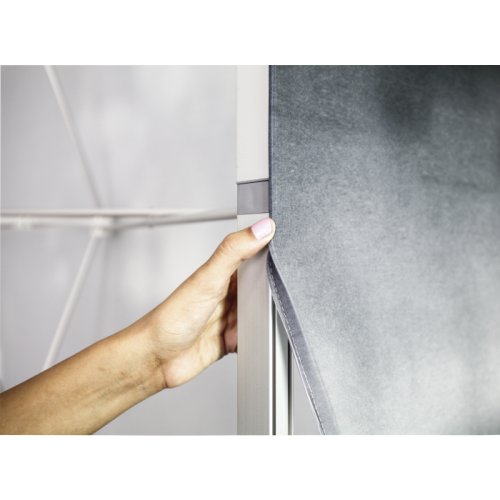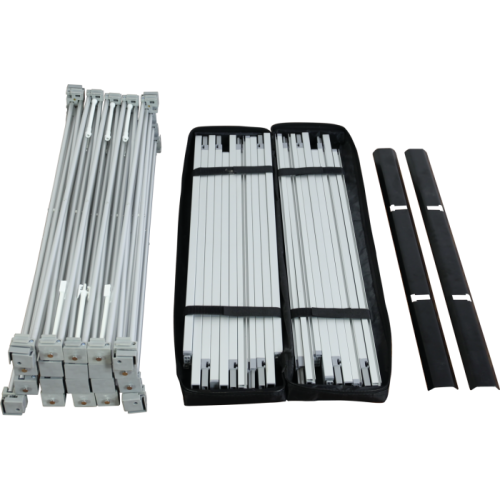 Product Code: emb-ob-tt-1X1
Availability: In Stock, Printing 2 - 3 days
---

2 or more $510.90
5 or more $497.80
10 or more $484.70
25 or more $471.60
2.5ft Embrace Tabletop Push-Fit Tension Fabric Display
This is the smallest one x one frame of the Embrace product display system. The hardware is made of sturdy anodized silver folds as a collapsible frame. With a perimeter channel bar to connect the thumb-pressure SEG graphic to frame. The hold push-fit fabric graphics can be printed with or without endcaps. An easy use and setup product ideal for a tabletop display. The tension seamless graphic makes a beautiful option for small table top exhibits or for in store promotions.
The "2.5ft Embrace Tabletop Push-Fit Tension Fabric Display" is a versatile and effective marketing tool designed to help businesses and brands make a strong presence in the marketing world. Here's detailed information about this display and how it can assist in marketing and branding efforts:
1. Display Overview:
The "2.5ft Embrace Tabletop Push-Fit Tension Fabric Display" is a compact and portable marketing display solution that features a 2.5-foot-wide tension fabric graphic attached to a lightweight and sturdy frame. It is designed for tabletop use, making it ideal for trade shows, exhibitions, conferences, and various promotional events.
2. Marketing Benefits:
• Attention-Grabbing Design: The tension fabric graphic provides a clean and seamless look, which is visually appealing and attracts the attention of the audience. The high-quality, full-color printing allows for vivid and sharp graphics, making it an excellent tool for showcasing your brand and products.
• Brand Visibility: This display helps in building a strong brand presence by prominently showcasing your branding elements, such as logos, slogans, and imagery. It reinforces brand recognition and creates a professional and consistent image.
• Portability: The lightweight frame and compact size of the display make it easy to transport and set up at various marketing events. Its portability ensures that you can bring your brand to different locations, reaching a wider audience.
3. Attracting Brand Audience
The "2.5ft Embrace Tabletop Push-Fit Tension Fabric Display" is designed to captivate the brand's target audience through its eye-catching graphics and professional appearance. It creates a visually appealing focal point in your marketing booth, drawing potential customers and attendees towards your display. The clean and seamless design enhances the overall aesthetics and professionalism of your brand, making it more attractive to your target audience.
4. Advantages:
• Easy Setup: Setting up this display is quick and hassle-free. The push-fit design allows for tool-less assembly, saving time and effort during setup. It comes with clear instructions and does not require any special skills to put together.
• Durable and Reusable: The display is built to last with a durable frame and high-quality tension fabric graphic. It can be used for multiple marketing events, making it a cost-effective choice. The tension fabric can be easily replaced, allowing for updates or changes in your marketing message without the need to invest in a new display.
• Customization: The tension fabric graphic is fully customizable, allowing you to tailor the display to your brand's specific needs. You can choose the design, colors, and messaging that best represent your brand.
• Compact Design: Its compact size makes it easy to transport in a carrying case, ensuring that you can take your branding wherever you go, whether it's a local marketing event or a large-scale trade show.
In summary, the "2.5ft Embrace Tabletop Push-Fit Tension Fabric Display" is a powerful marketing tool that helps in creating brand visibility, attracting your target audience, and making a strong marketing presence. Its easy setup, reusability, and customizable design make it a valuable asset for any business looking to enhance its marketing efforts and build a strong brand identity.
Specifications:
Assembled Dimensions: 30.43"W x 30.74"H x 12.92"D
Display Size: Tabletop
Shipping Dimensions: Ships in: 1 x BOX (35"L x 15"H x 9"D)
Approximate Shipping Weight: 14 lbs
Graphic Specifications:
Perimeter channel bars connect to frame and hold push-fit fabric graphics
Downloads: Embrace 2.5ft Tabletop Push-Fit Tension Fabric Display
NOTE: To download files, click the links below or Right Mouse Click and choose "Save Target As..."



Set-up Instructions for Embrace 2.5ft Tabletop Push-Fit Tension Fabric Display


Single Sided NO Endcaps Embrace 2.5ft Tabletop Push-Fit Tension Fabric Display


Single Sided with Endcaps Embrace 2.5ft Tabletop Push-Fit Tension Fabric Display