 AnythingDisplay.com
Loading something great for you!
5 ft x 5 ft Embrace 5ft Tabletop Push-Fit Fabric Popup Display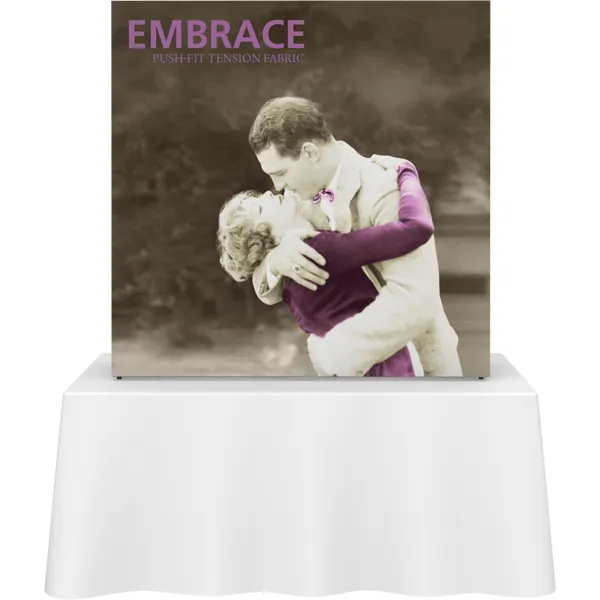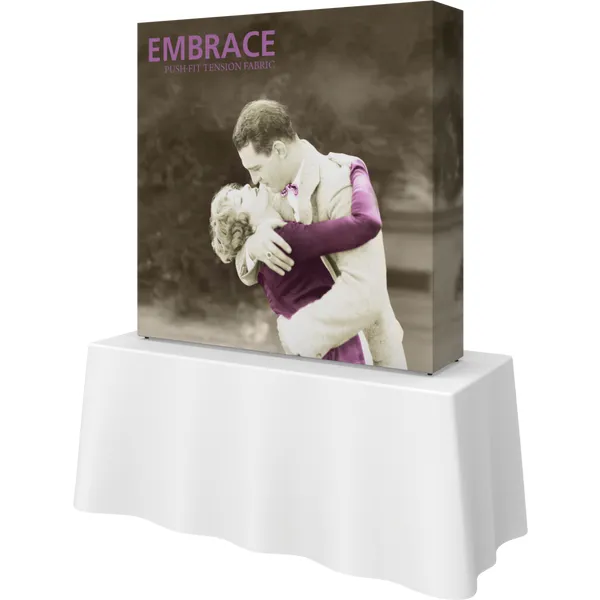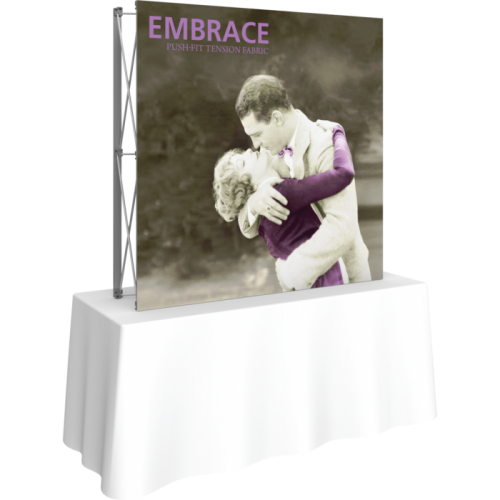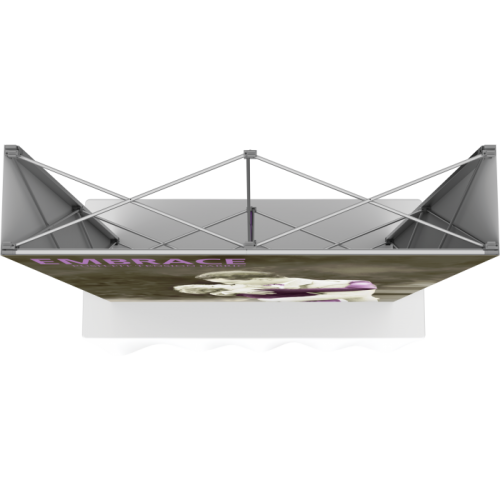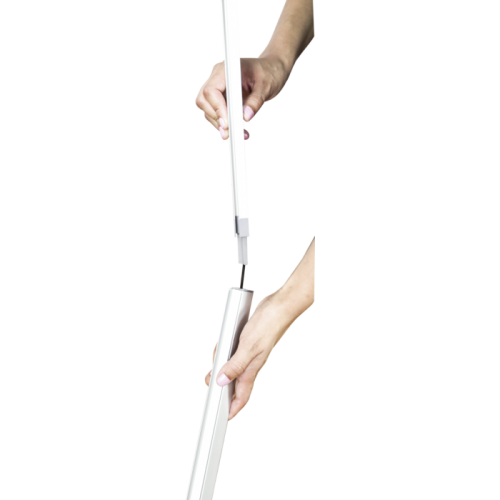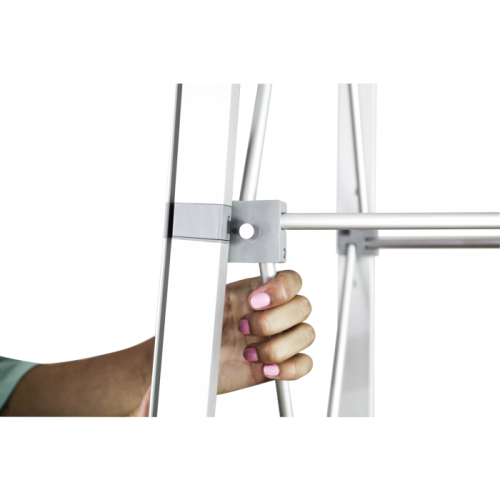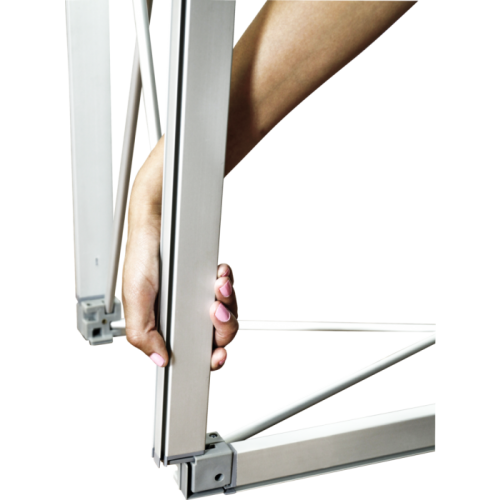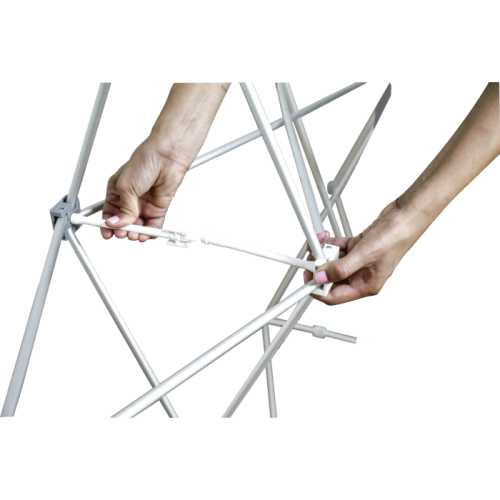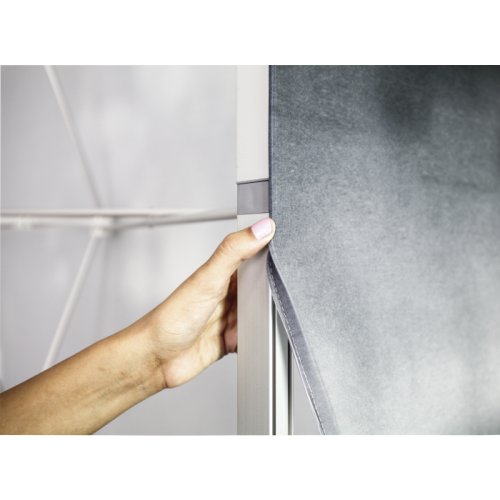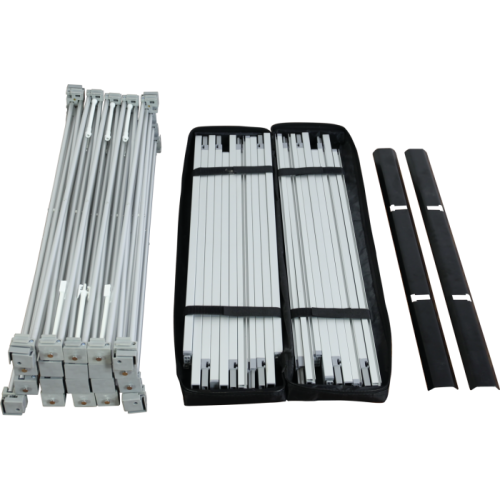 Product Code: emb-ob-tt-2X2
Availability: In Stock, Printing 2 - 3 days
---

2 or more $880.43
5 or more $857.85
10 or more $835.28
25 or more $812.70
Embrace Tabletop Display 5ft wide SEG Push-Fit Fabric Graphics
The Embrace Tabletop Display 5ft wide SEG Push-Fit Fabric Graphics is a portable and versatile marketing tool used for trade shows, exhibitions, and other promotional events. It consists of a lightweight frame with silicone edge graphics (SEG) technology, which allows for easy graphic installation and a seamless, wrinkle-free appearance. AnythingDisplay providing top quality "5 ft x 5 ft Embrace 5ft Tabletop Push-Fit Fabric Popup Display" at very competitive price
Uses:
1. Trade Shows: The Embrace Tabletop Display is perfect for showcasing products or services at trade shows, providing a visually appealing backdrop that captures the attention of attendees.
2. Exhibitions: It's ideal for exhibitions and conventions, where you want to create a professional and memorable booth to attract visitors.
3. Presentations: Use it for corporate presentations, sales meetings, or product launches to enhance your brand's image and make a lasting impression.
Benefits:
1. Easy Setup: The push-fit SEG technology allows for quick and hassle-free graphic installation, saving time and effort during event setup.
2. High-Quality Graphics: The fabric graphics produce high-resolution, vibrant visuals that effectively convey your brand message and make your booth stand out.
3. Portability: The 5ft wide display is compact and lightweight, making it easy to transport to different events and locations.
4. Reusability: The durable frame and interchangeable graphics allow you to reuse the display for multiple events, saving on costs in the long run.
Advantages:
1. Seamless Appearance: The silicone edge graphics create a seamless, sleek look without visible seams or wrinkles, enhancing the visual appeal of your display.
2. Customization: You can customize the graphics to fit your branding and promotional needs, making it a versatile marketing tool.
3. Versatility: It can be used on tabletops or as a complement to larger displays, offering flexibility in how you present your brand.
Marketing Scope: The Embrace Tabletop Display 5ft wide SEG Push-Fit Fabric Graphics can be used by a wide range of businesses and industries, including but not limited to:
• Retailers promoting new products or special offers
• Technology companies showcasing the latest gadgets
• Service providers presenting their offerings
• Non-profit organisations raising awareness
• Educational institutions promoting programs
• Healthcare organisations sharing important information
Its marketing scope is broad, as it can be used for a variety of purposes and in numerous settings. Whether you're a startup, an established business, or a nonprofit organisation, this embrace display can help you make a strong visual impact and engage your target audience effectively.
Buy the Embrace tabletop Display stands 5ft full height (2 Quad x 2 Quad) to enhance your next event presentation. Comes pre packed in a carry bag for easy transport and setup. This delivers a sleek streamlined collapsible frame requires minimal effort to set up. There are no tools required for assembly. This lightweight and highly portable display packs away as easily as it sets up for the ideal trade show, event or retail display marketing!

The Embrace 5ft wide graphic display attaches to the sleek, collapsible anodized silver frame with channel bars snap tension to hold frame setup sturdy. The frame has a thin channel to thumb-press-fit the SEG fabric graphic in place. This display comes with or without endcaps your choice at checkout.

*** WARRANTY *** Manufactures Warranty on Hardware and Warranty on Graphics
Features and Benefits:
Lightweight collapsible frame
Stabilizer feet included
Simple assembly
Premium opaque fabric graphic with SEG beading offered with or without end caps
Dovetail on top hubs for lights* to slide onto
Rolling carry bag included
Lifetime hardware warranty against manufacturer defects
*Lights sold separately
Specifications:
Assembled Dimensions: 59.95"W x 59.59"H x 12.92"D
Display Size: Tabletop
Shipping Dimensions: Ships in: 1 x BOX (38"L x 15"H x 9"D)
Approximate Shipping Weight: 20 lbs
Graphic Specifications:
Graphic Width: With no end caps: 59.5", With end caps: 86.5"
Graphic Height: With no end caps: 59.25", With end caps: 59.25"
Perimeter channel bars connect to frame and hold push-fit fabric graphics
Downloads: Embrace 5ft Square Tabletop Push-Fit Tension Fabric Display
NOTE: To download files, click the links below or Right Mouse Click and choose "Save Target As..."



Set-up Instructions for Embrace 5ft Square Tabletop Push-Fit Tension Fabric Display


Single Sided NO Endcaps Embrace 5ft Square Tabletop Push-Fit Tension Fabric Display


Single Sided with Endcaps Embrace 5ft Square Tabletop Push-Fit Tension Fabric Display