 AnythingDisplay.com
Loading something great for you!
8ft Embrace Backdrop SEG Pop up Display Frame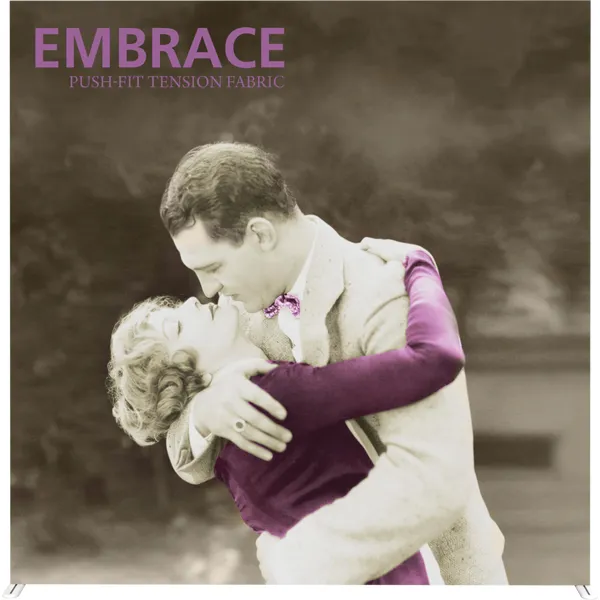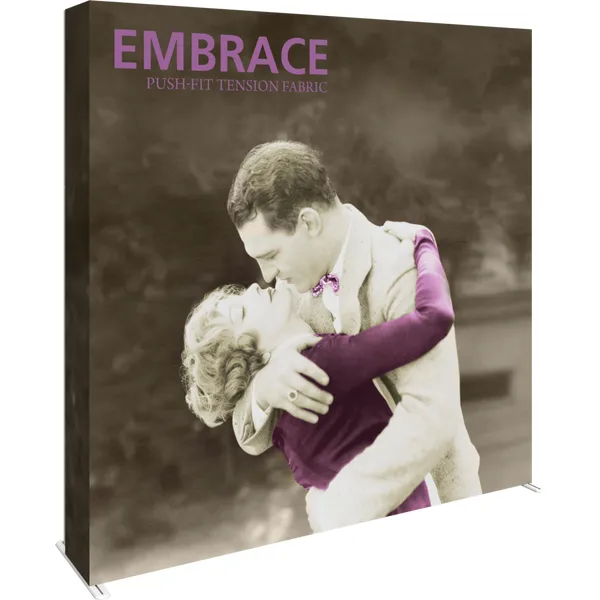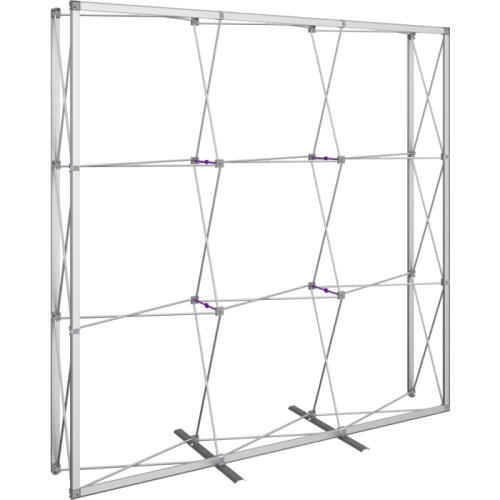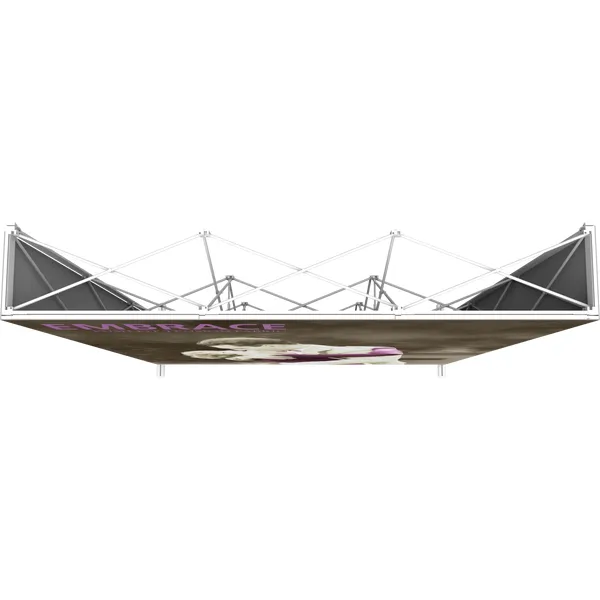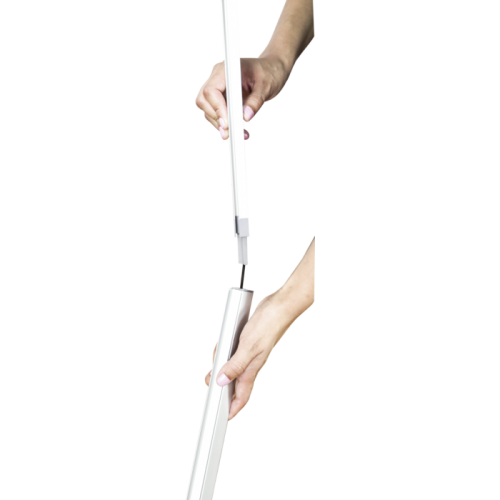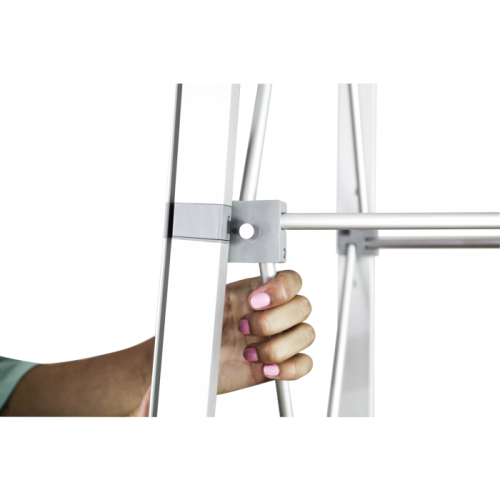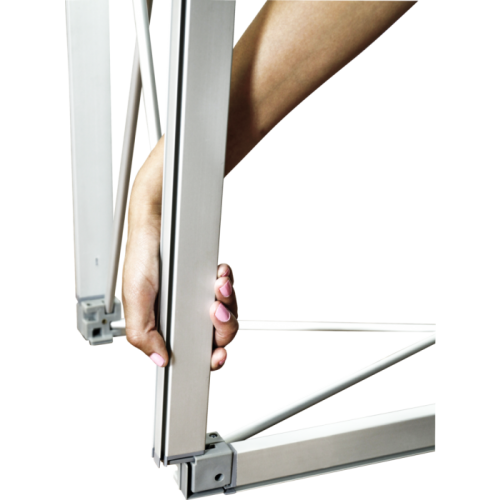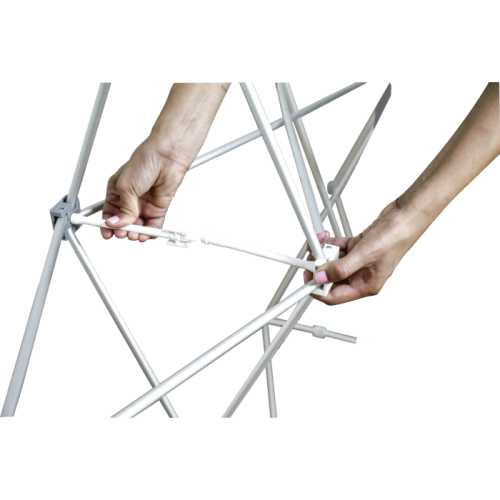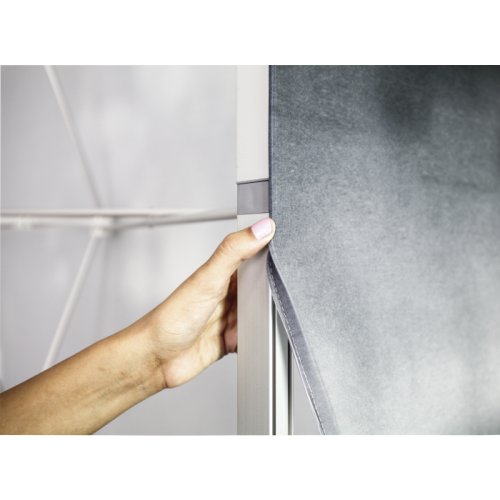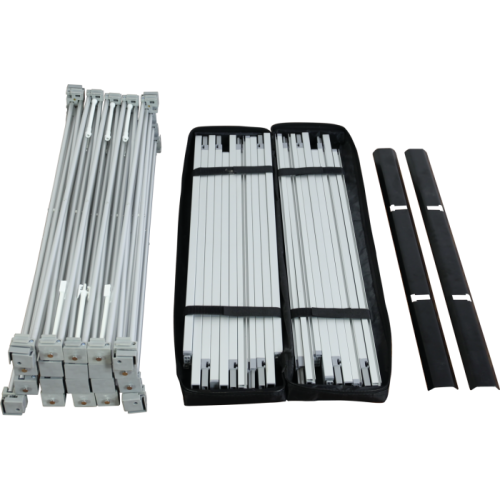 Product Code: emb-ob-fh-3X3
Availability: In Stock, Printing 2 - 3 days
---

2 or more $1,088.26
5 or more $1,060.35
10 or more $1,032.45
25 or more $1,004.54
Embrace Backwall Display is 8ft wide and Stands 8ft high
Buy the Embrace 8 x 8 backwall display. it stands as 8ft x 8ft square (3 Quad x 3 Quad) to enhance your next event presentation. This comes packed in carry bag for easy transport. Offering a sleek, collapsible, portable tabletop display that stands up straight with minimal effort to set up. The Embrace 8ft width starts as a sleek, collapsible anodized silver frame with channel bars snap tension to hold frame setup sturdy. The frame has a think perimeter channel to thumb-press the SEG fabric graphics in place. Graphics comes with or without endcaps prints. There are no tools required for assembly. This lightweight and highly portable display packs away as easily as it sets up for the ideal trade show, event or retail display marketing!
Buy 8fit Embrace Backdrop SEG Pop-Up Display Frame from Anything Display it is a popular and versatile trade show and event display system. It's designed for creating eye-catching, seamless fabric graphic displays that can be used as backdrops for various promotional and marketing events.

Size: As the name suggests, the 8ft Embrace Backdrop SEG Pop-Up Display Frame is designed to create an 8-foot-wide backdrop. It provides a large, attention-grabbing space for showcasing your brand, products, or messaging.
SEG Graphics: SEG stands for Silicone Edge Graphics. These are high-quality fabric graphics with a silicone edge that easily fits into a channel on the frame. This system creates a seamless and taut appearance, which looks professional and aesthetically pleasing.
Pop-Up Frame: The frame of this display system typically uses a collapsible, pop-up frame design. This allows for easy assembly and disassembly without the need for tools. It's a user-friendly solution, making it a popular choice for trade show exhibitors.
Portability: The frame is often lightweight and comes with a carrying case or bag, making it highly portable. This is important for businesses that frequently attend trade shows and events.
Customization: The fabric graphic can be fully customised with your branding, images, and messaging. This allows you to create a tailored display that matches your marketing goals and fits the theme of the event.
Versatility: The 8ft Embrace Backdrop SEG Pop-Up Display Frame can be used in various settings, including trade shows, exhibitions, conferences, corporate events, red carpet events, and more. Its versatility and professional appearance make it a valuable marketing tool.
Durability: Quality frames are built to be durable and can withstand the rigors of frequent use. They are designed to be long-lasting, providing good value for your investment.
Easy Graphics Replacement: The silicone edge graphics are easily replaceable, allowing you to update your display with new graphics without the need to purchase an entirely new frame.
Lighting Options: Some versions of this display system also have options for integrating LED lighting, which can further enhance the visual impact of your backdrop.
When using the 8ft Embrace Backdrop SEG Pop-Up Display Frame, it's essential to have high-quality graphics that effectively convey your message and branding. Additionally, the frame should be correctly set up to ensure the fabric graphic fits seamlessly for a professional appearance. This type of display is a great choice for businesses looking to create a striking and memorable presence at trade shows and events.
*** WARRANTY *** Manufactures Warranty on Hardware and Warranty on Graphics
Features and Benefits:
Lightweight collapsible frame
Stabiliser feet included
Simple assembly
Premium opaque fabric graphic with SEG beading offered with or without end caps
Dovetail on top hubs for lights* to slide onto
Rolling carry bag included
Lifetime hardware warranty against manufacturer defects
*Lights sold separately
Graphic Design Services: Available upon request. Please call for a quote (239) 433-9738

Click here for Artwork Guidelines
Specifications:
Assembled Dimensions: 88.15"W x 88.8"H x 28.94"D
Display Size: 8' Inline
Shipping Dimensions: Ships in: 1 x BOX (38"L x 15"H x 9"D)
Approximate Shipping Weight: 34lbs
Graphic Specifications:
Graphic Width: With no end caps: 92.25", With end caps: 119.25"
Graphic Height: With no end caps: 92.25", With end caps: 92.25"
Perimeter channel bars connect to frame and hold push-fit fabric graphics
Downloads: Embrace 8ft Full Height Push-Fit Tension Fabric Display
NOTE: To download files, click the links below or Right Mouse Click and choose "Save Target As..."



Set-up Instructions for Embrace 8ft Full Height Display


Single Sided NO Endcaps Embrace 8ft Full Height Display


Single Sided with Endcaps Embrace 8ft Full Height Display