 AnythingDisplay.com
Loading something great for you!
8 ft Embrace Tabletop Display with SEG Popup Frame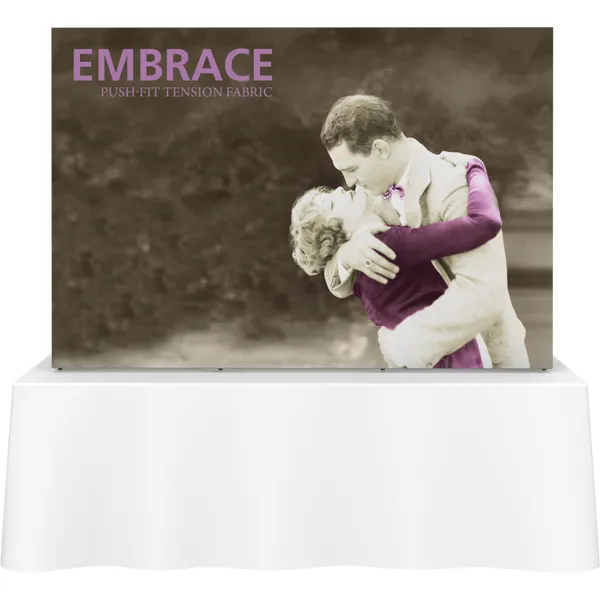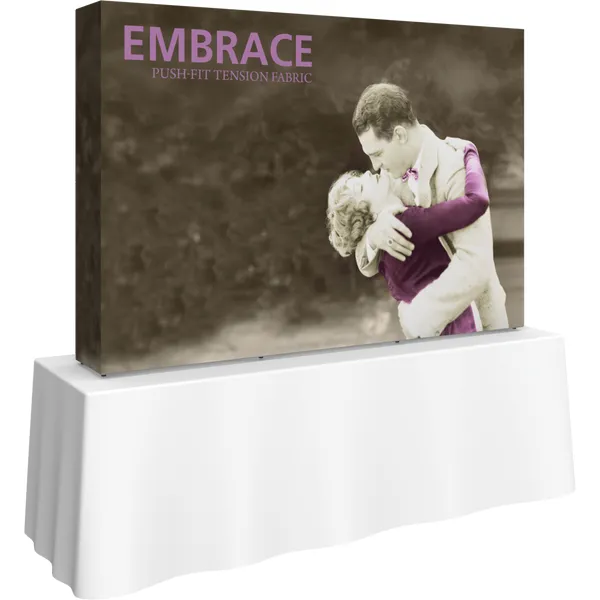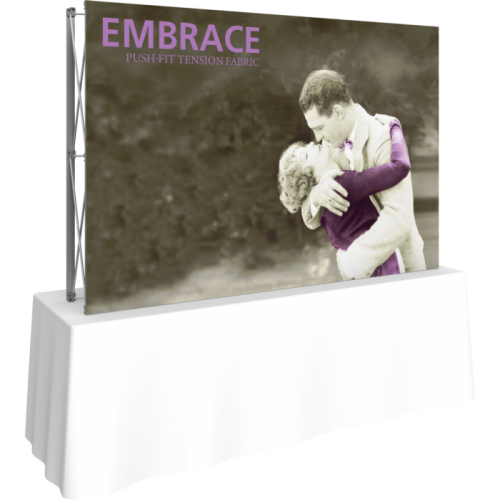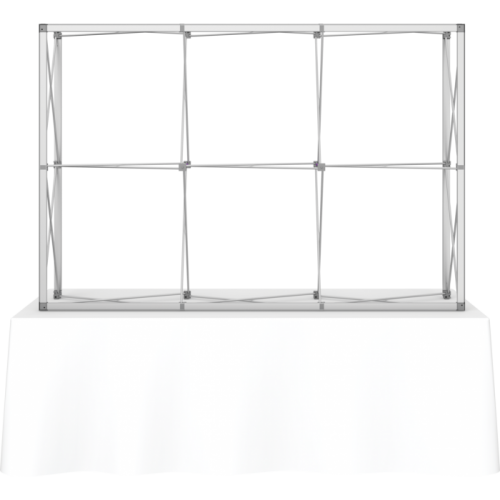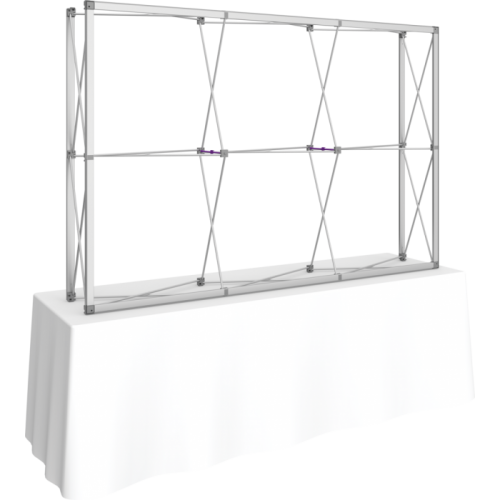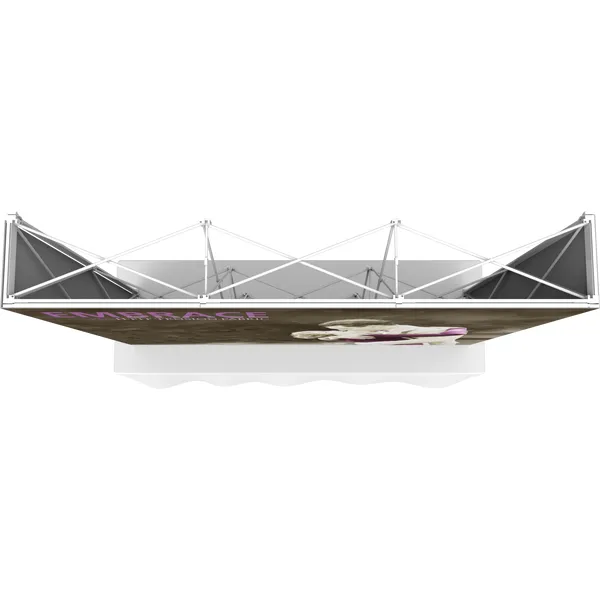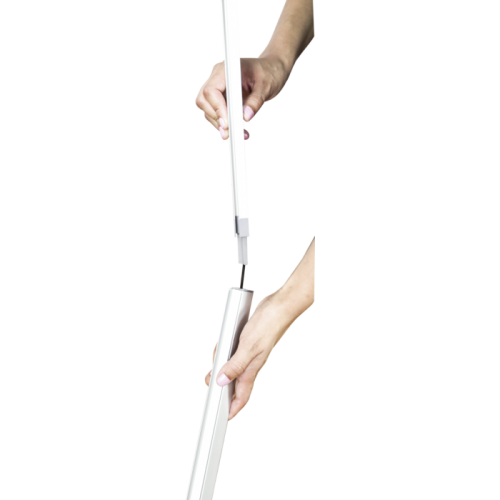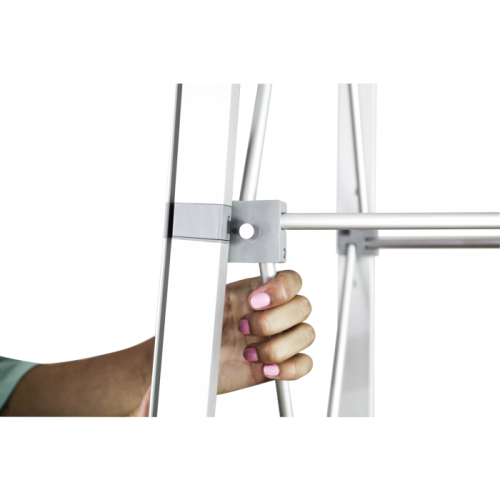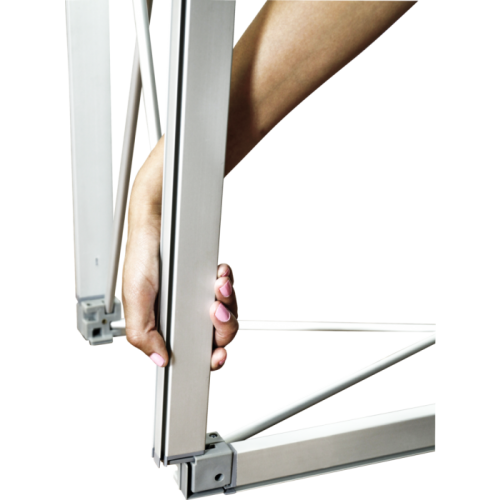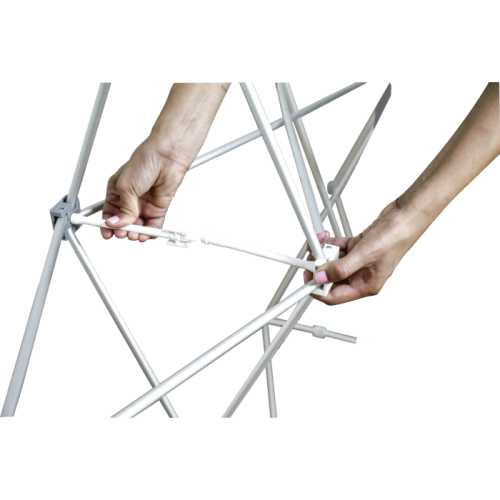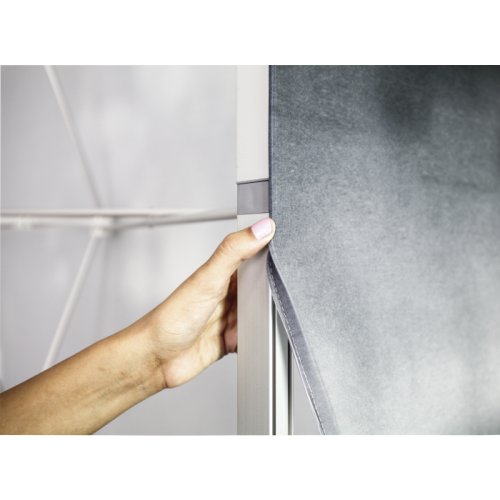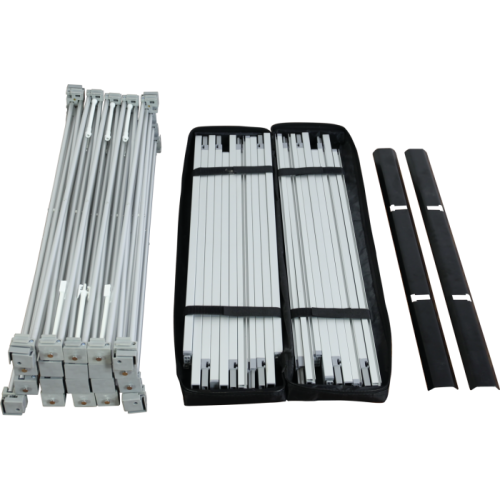 Product Code: emb-ob-tt-3X2
Availability: In Stock, Printing 2 - 3 days
---

2 or more $984.75
5 or more $959.50
10 or more $934.25
25 or more $909.00
Embrace Tabletop Display 8ft wide SEG Push-Fit Fabric Graphics
Using an Embrace Tabletop Display with an 8ft wide SEG (Silicone Edge Graphics) Push-Fit Fabric Graphics in a trade show exhibition offers several benefits that can help your booth stand out and make a lasting impression on attendees. Here are some of the advantages of using this type of display in a trade show setting:
Professional Aesthetics: SEG Push-Fit Fabric Graphics provide a polished and professional look. The silicone edge of the graphic fits seamlessly into the frame, creating a sleek and wrinkle-free appearance that exudes quality and attention to detail.
Attention-Grabbing Graphics: The high-resolution printing on fabric graphics allows you to showcase your brand and products with vibrant, eye-catching visuals. This can draw attendees to your booth and make it easy for them to understand your offerings.
Ease of Setup: The Embrace Tabletop Display is designed for quick and hassle-free assembly. With no need for tools or complex installation, you can set up your booth swiftly, saving valuable time during the trade show.
Portability: The tabletop display is lightweight and easily transportable, typically coming with a convenient carrying case. This portability makes it ideal for trade shows where you may need to set up and dismantle your booth quickly and efficiently.
Customisation: You can easily update the graphics on your SEG display to tailor your messaging to different trade shows or promotions. This adaptability allows you to use the same frame for multiple events, saving on costs.
Durability: SEG graphics are known for their durability, ensuring that your display will look great throughout the duration of the trade show. The fabric graphics are typically resistant to wear and tear.
Cost-Effective: While the initial investment may be higher than some other display options, the ability to reuse the frame and update the graphics makes SEG displays cost-effective in the long term, as you don't need to invest in a new display for each event.
Versatility: The 8ft wide tabletop display can be used in various trade show settings, including 10x10 and 10x20 booth spaces. Its adaptability makes it suitable for different trade show floor layouts and booth sizes.
High Brand Visibility: The seamless and visually appealing display can help your brand stand out in a crowded trade show exhibition hall. It can attract and retain the attention of passing attendees, making your booth memorable.
LED Lighting Compatibility: Many SEG displays are compatible with LED lighting systems, which can further enhance the visual impact of your booth and draw more attention.
Environmental Considerations: SEG displays are often considered more environmentally friendly than some traditional display materials. They can be recycled, and the materials used are typically eco-friendly.
In a trade show exhibition, where competition for attendee attention is fierce, the Embrace Tabletop Display with 8ft wide SEG Push-Fit Fabric Graphics can be an effective tool for increasing brand visibility, engagement, and the overall success of your marketing efforts.

There are no tools required for assembly. This lightweight and highly portable display packs away as easily as it sets up for the ideal trade show, event or retail display marketing!
*** WARRANTY *** Manufactures Warranty on Hardware and Warranty on Graphics
Features and Benefits:
Lightweight collapsible frame
Stabilizer feet included
Simple assembly
Premium opaque fabric graphic with SEG beading offered with or without end caps
Dovetail on top hubs for lights* to slide onto
Rolling carry bag included
Lifetime hardware warranty against manufacturer defects
*Lights sold separately
Graphic Design Services: Available upon request. Please call for a quote (239) 433-9738

Click here for Artwork Guidelines


Set-up Instructions for Embrace 8ft Tabletop Push-Fit Tension Fabric Display


Single Sided NO Endcaps Embrace 8ft Tabletop Push-Fit Tension Fabric Display


Single Sided with Endcaps Embrace 8ft Tabletop Push-Fit Tension Fabric Display
Specifications:
Assembled Dimensions: 88.15"W x 59.59"H x 12.92"D
Display Size: Tabletop
Shipping Dimensions: Ships in: Ships in: 1 x BOX (38"L x 15"H x 9"D)
Approximate Shipping Weight: 27 lbs
Graphic Specifications:
Graphic Width: With no end caps: 88", With end caps: 115"
Graphic Height: With no end caps: 59.25", With end caps: 59.25"
Perimeter channel bars connect to frame and hold push-fit fabric graphics
Downloads: Embrace 8ft Tabletop Push-Fit Tension Fabric Display
NOTE: To download files, click the links below or Right Mouse Click and choose "Save Target As..."



Set-up Instructions for Embrace 8ft Tabletop Push-Fit Tension Fabric Display


Single Sided NO Endcaps Embrace 8ft Tabletop Push-Fit Tension Fabric Display


Single Sided with Endcaps Embrace 8ft Tabletop Push-Fit Tension Fabric Display