 AnythingDisplay.com
Loading something great for you!
14 ft. x 7.5 ft. Embrace U Shaped Popup With Silicone Edge Graphics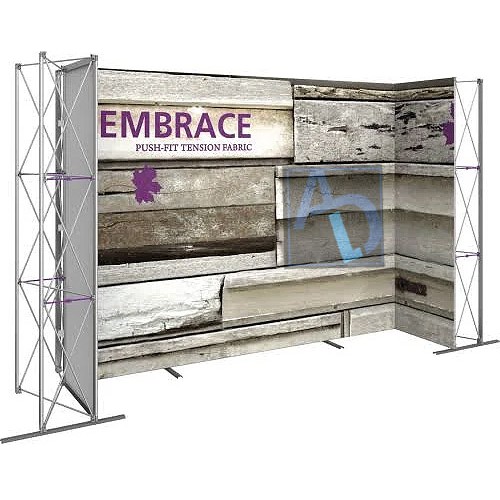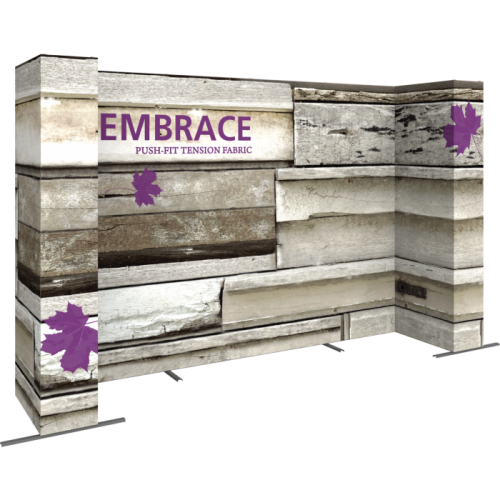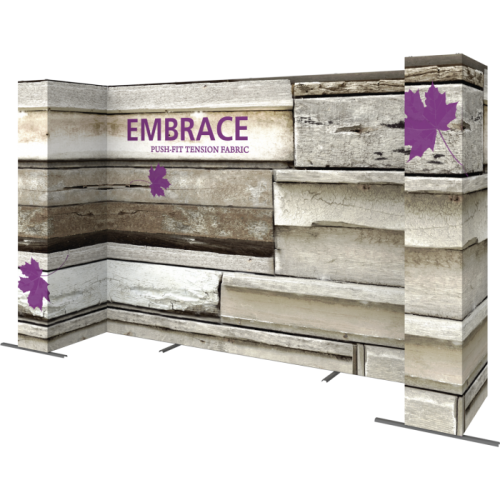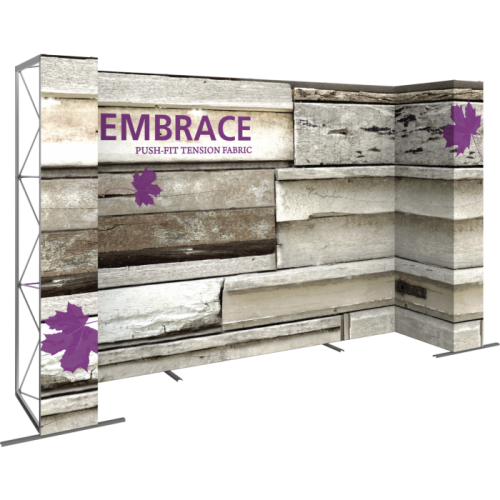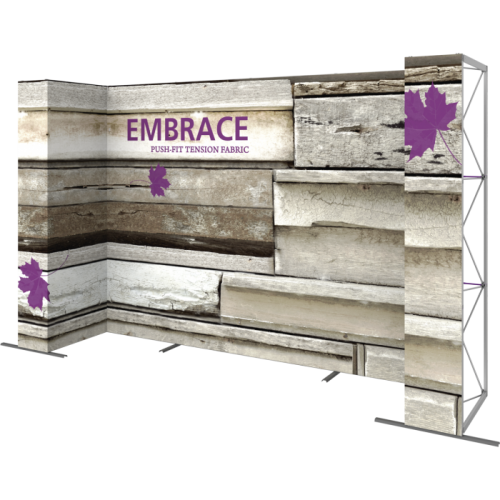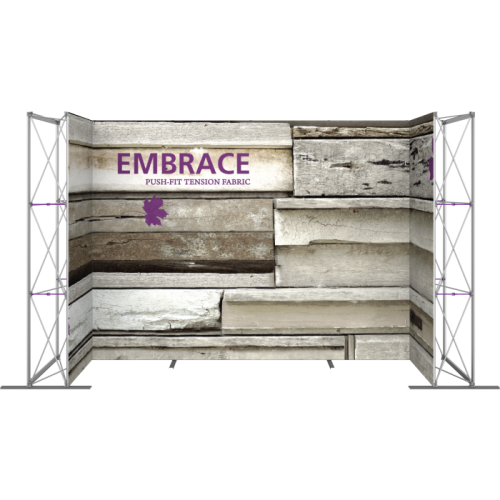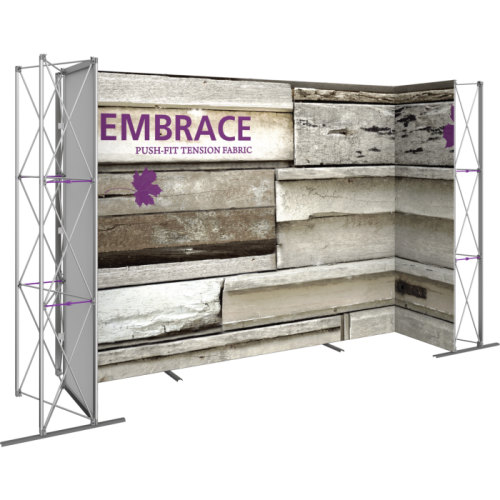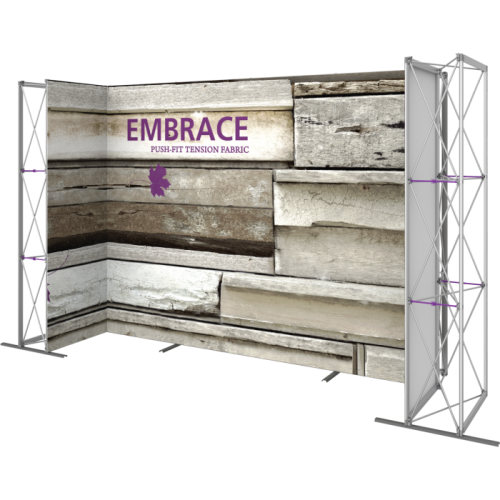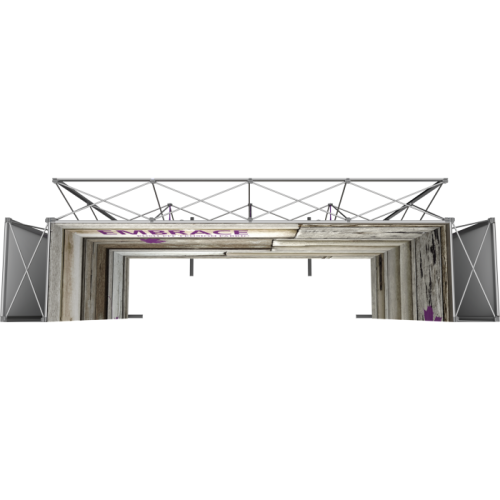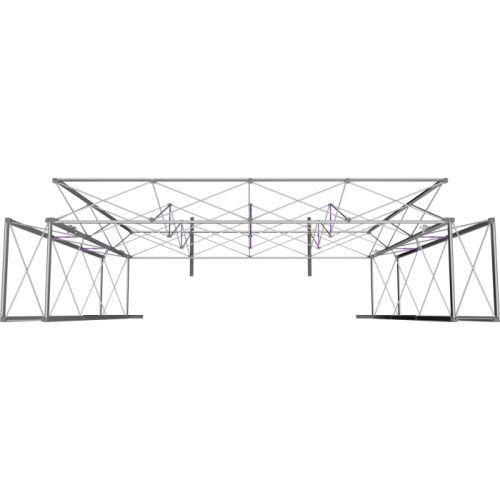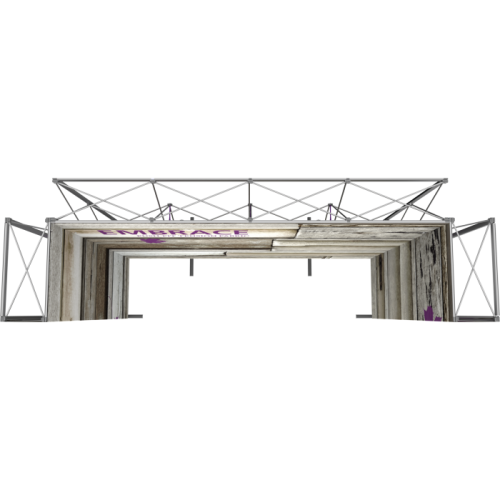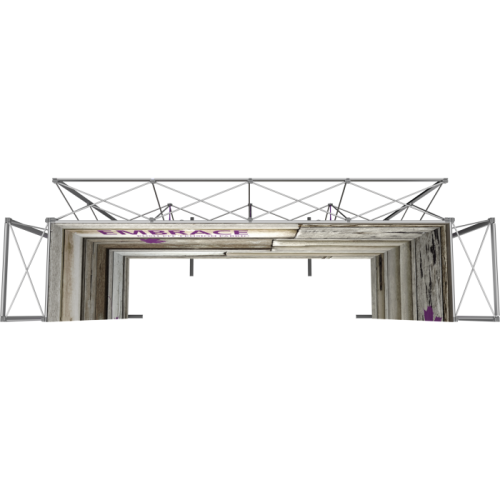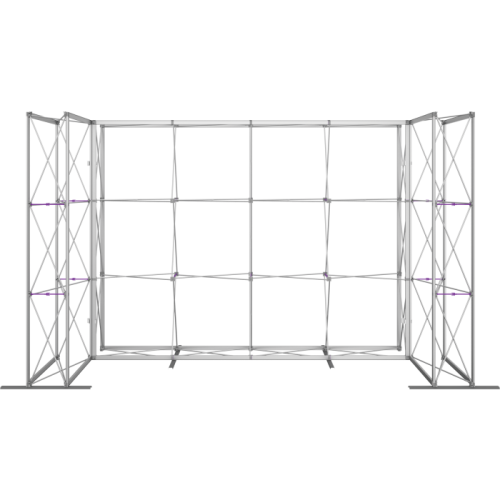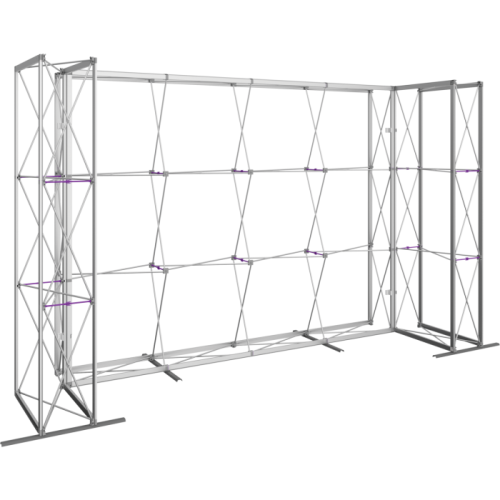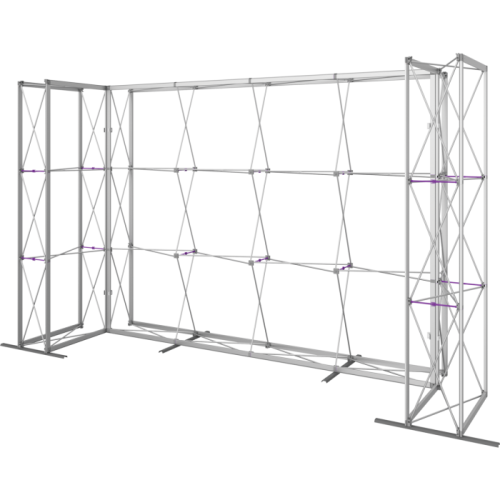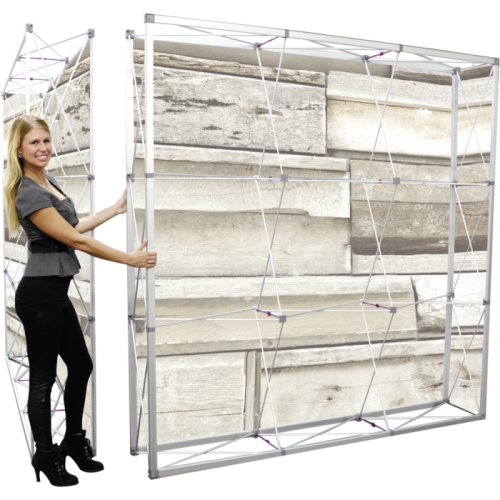 Product Code: emb-ob-U-14
Availability: In Stock, Printing 2 - 3 days
---

2 or more $2,107.95
5 or more $2,053.90
10 or more $1,999.85
25 or more $1,945.80
14 ft. x 7.5 ft. Embrace U Shaped Popup With Silicone Edge Graphics
The "14 ft. x 7.5 ft. Embrace U Shaped Popup with Silicone Edge Graphics" is a versatile and eye-catching display solution designed for various marketing and promotional purposes. Here is a detailed description of this product, including its uses, advantages, and features:
Description: The "14 ft. x 7.5 ft. Embrace U Shaped Popup With Silicone Edge Graphics" is a large and visually striking portable display system. It features a U-shaped frame made of lightweight, durable aluminum, which is incredibly easy to assemble and disassemble. The key feature of this display is its silicone edge graphics, a high-quality, fabric-like material that is printed with your custom artwork and easily attaches to the frame, creating a seamless, wrinkle-free appearance.
You can purchase this 14 foot wide x 7.5 foot tall wall display to showcase your business in an impressive way. The display hardware frame is made of sturdy anodized silver collapsible frames. Easy setup kit Includes one 4 x 3 frame and two 1 x 3 frames that connect channel bars with linking clamps and stabilizer feet to complete set up. The perimeter channel bar, with graphic groove slots, connects to frame to hold the thumb-press SEG push-fit graphics tightly to the display. Premium quality fabric graphics with opaque push-fit SEG bead to connect to the frame. The graphic design can be customized to print as single or double-sided, with or without end caps.
This display packs into three rolling carry bags included for transportation and storage. Due to it's large size and heavy weight packages this display requires a customized freight quote. Freight prices can vary drastically depending on availability and destination timing. You buy this by adding it to the cart and checking out. Once we complete the package and it's ready to ship we will get you a custom quote for best in real-time pricing. You can always ship on your account too. However you purchase this impressive display your business will be sure to leave a positive impression on guests and visitors.
Uses to Attract More Audiences:
1. Trade Shows and Exhibitions:- This display is perfect for trade shows and exhibitions, where it can help you stand out from the competition. The large size and vibrant graphics will attract visitors to your booth and leave a lasting impression.
2. Retail Environments:- Use it in retail spaces to create visually stunning in-store displays that highlight new products, promotions, or brand messaging.
3. Corporate Events:- Make a statement at corporate events, conferences, and meetings by showcasing your brand with a captivating backdrop.
4. Red Carpet Events:- Elevate your presence at red carpet events, award ceremonies, or other high-profile gatherings with a custom-designed Embrace U-shaped popup.
5. Photography Backdrops:- This display can also serve as a stylish and professional backdrop for photo shoots, interviews, and more.
Ease of Use : This "14 ft. x 7.5 ft. Embrace U Shaped Popup" is incredibly user-friendly.
• Tool-Free Assembly: No tools are required for setup. The frame easily snaps together, and the silicone edge graphics slide into place.
• Lightweight and Portable: The aluminum frame is lightweight and comes with a convenient carry bag for easy transportation.
• Quick Graphic Changes: You can change the silicone edge graphics as often as you need, making it a versatile solution for different events and promotions.
Advantages
1. Visual Impact: The large size and high-resolution graphics create a visually stunning backdrop that can capture the attention of passersby.
2. Customization: The silicone edge graphics are fully customizable, allowing you to tailor the display to your branding and messaging needs.
3. Durability: The aluminum frame is not only lightweight but also sturdy, ensuring the display's longevity.
4. Portability: It can be easily transported to different locations, making it a practical choice for events and promotions.
Key Features:
• U-Shaped Frame: The unique U-shaped frame provides an open and inviting space, making it suitable for engaging with potential customers.
• Silicone Edge Graphics: The silicone edge graphics create a seamless and professional appearance, and they are easy to replace when you need to update your message or branding.
• LED Lighting Compatibility: The frame is designed to accommodate optional LED lights, further enhancing the visual impact of your display.
In summary, the "14 ft. x 7.5 ft. Embrace U Shaped Popup with Silicone Edge Graphics" is an effective, versatile, and user-friendly display solution that can be used at trade shows, retail environments, corporate events, and more. Its advantages include visual impact, customization, durability, and portability, while key features such as the U-shaped frame and silicone edge graphics make it a standout choice for your marketing and promotional needs.
Specifications:
Assembled Dimensions: 159.6"W x 89.4"H x 51.2"D
Display Size: 20' Inline
Shipping Dimensions: Ships in:1 x BOX (38"L x 15"H x 9"D)2 x BOX (35"L x 15"H x 9"D)
Hardware Only Weight: 92 lbs
Approximate Shipping Weight: 92 lbs
Graphic Specifications:
Perimeter channel bars connect to frames and hold push-fit fabric graphics
Downloads: Embrace 14ft U-shape Push-fit Tension Fabric Display
NOTE: To download files, click the links below or Right Mouse Click and choose "Save Target As..."



Set-up Instructions for Embrace 14ft U-shape Push-fit Tension Fabric Display


Single Sided with Endcaps Embrace 14ft U-shape Push-fit Tension Fabric Display


Double Sided with Endcaps Embrace 14ft U-shape Push-fit Tension Fabric Display


Single Sided NO Endcaps Embrace 14ft U-shape Push-fit Tension Fabric Display


Double Sided No Endcaps Embrace 14ft U-shape Push-fit Tension Fabric Display